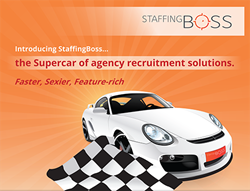 We're aiming to disrupt the recruitment CRM space in a major way with our breakthrough CRM platform, appealing price points and in-country support.
(PRWEB) October 01, 2013
HRBoss, the HCM Cloud solutions provider, today announced the launch of StaffingBoss, their CRM / ATS solution for recruiting and staffing agencies. Designed by industry experts as Asia's 1st dedicated staffing agency CRM, StaffingBoss includes a host of sophisticated features; embedded business intelligence, in-built business process management and real-time visual analytics reporting. As with all HRBoss solutions, StaffingBoss is delivered through the secure Cloud, is available in all Asian and European languages and is backed up with in-country support across 7 Asian countries. This latest product launch marks another growth milestone for the Asia-based HR SaaS pioneers, following news of their recent corporate rebrand, strategic acquisitions and expansion into the field of HR Big Data.
Bernie Schiemer, HRBoss founder and CEO, today commented, 'As anyone who has run a recruitment agency in Asia is already painfully aware, all of the dominant providers of recruitment software to the staffing industry are US and Europe focused. We're putting a stake in the ground with StaffingBoss as the 1st global recruiting CRM with a dedicated focus on Asia. We're aiming to disrupt the recruitment CRM space in a major way with our breakthrough CRM platform, appealing price points and in-country support. We're not just talking the talk, but are putting our money where our mouth is and are investing significantly in product R&D and our incredible StaffingBoss support team. Our competitors are typically in just 2 or 3 countries here in Asia, whilst we are already thriving in 7 countries across the region. We are on track to expand to 14 countries globally in 2014, with the lions share of these remaining focused here in Asia-Pacific. The bottom line is simple- our goal with StaffingBoss is to provide recruiting and staffing firms with software that gives them the competitive edge, helps them close more deals and grow their businesses. And we know that if we want to achieve that goal, we need to be here for them, on-the-ground where they are. If feedback from our first clients is anything to go by, StaffingBoss is the agency CRM solution that Asia has been waiting for'.
StaffingBoss includes the following capabilities and features:

Manage an end-to-end agency business from 1 web-based platform: candidates, clients & job, KPIs, billing and invoicing.
Embedded Business Intelligence: real-time data on every screen, with a powerful reporting engine & visual analytics.
Intuitive Business Process Management: easy-to-use for everyone, no training required.
Integrated calendar and email: including templates and triggers.
Localized for Asia: specifically tailored for the legislative requirements of local markets, available in Japanese, Chinese and other Asian languages. Integrates to local, regional and global job boards
Resume Processing: multi-lingual parsing, auto-format resumes to your company specific layout.
In-country support across 7 Asian countries, with native-speaking StaffingBoss experts.
Schiemer continued, 'Successful recruiting is a race; a race against time, against competitors where the fastest agency always wins. With this in mind, we've designed StaffingBoss as the supercar of agency CRM solutions. It's sexy, it's feature-rich and is built for speed. The 'wow' factor comes from the embedded Business Intelligence, giving you all critical data in a heads-up dashboard display so you don't miss red flags or waste time running reports. Rather, you get an at a-glance picture of everything happening in your business and are clearly shown what matters right now- from how many resumes your consultants have sent and how your top-billers are performing, through to how many deals you'll close this quarter. Visual analytics appear throughout, allowing you to drill down /telescope in on deal flows, from getting jobs through to filling those jobs. And, as you would expect with any F1 supercar, if you need to make an unexpected pit-stop you have a team of experts ready to handle things for you and get you back on the road quickly. That translates to on-the-ground support with local experts who speak your language, with all upgrades, support and implementation taken care of by your StaffingBoss support team."
Prior to founding HRBoss in 2011, Schiemer had 16 years of experience in running global recruiting agencies. In 2000 he co-founded James Harvard International in London, and opened a Japan office in 2001. This grew to become a prestigious IT / Finance/ Pharma boutique recruiting firm. In February 2007, Schiemer sold the James Harvard International Japanese business to global recruitment giants Hays PLC. He successfully completed his earn-out in December 2009 as Managing Director of Hays Japan.
Schiemer continued, 'As someone who has worked in global recruitment for the last 16 years, I know first-hand that any agency is limited by the technology and CRM they are using. I have personally been in the position of agency owner and have selected and worked with 3 of the main CRM providers out there. I know their respective benefits and pitfalls, and all of this knowledge has been poured into creating StaffingBoss as the ultimate agency CRM solution. We've been careful to make sure that upgrading from your current CRM is simple and that all your existing data, including contacts and documents come across with you to StaffingBoss. We're all thrilled to have such a refreshing and exciting product on our hands, it should be an interesting few months ahead'.
With the launch of StaffingBoss, the standard HRBoss customer profile transforms from being solely HR professionals to now embrace users from recruiting, staffing and search agencies, consulting firms, RPO's and outsourcing firms. StaffingBoss caters for all agency disciplines, including retained, contingency, temporary and contract recruitment.
StaffingBoss will be showcasing as a sponsor of the Global Recruiters APAC Summit on 2nd and 3rd of October in Singapore at the Marina Bay Sands.
HRBoss is the fastest growing HR & Recruiting software company in Asia. Founded in 2011, HRBoss is rapidly expanding its footprint across Asia with offices currently open in 7 countries today (Singapore, Japan, Vietnam, Indonesia, China, Malaysia and Hong Kong) with more to follow. All of our Cloud solutions are intuitive, highly-configurable and are supported locally on-the-ground where you are. In 2013, HRBoss has experienced considerable growth, adding over 10,000 new users from all industries, from local start-ups and government agencies through to industry leaders, including Mitsubishi Fuso, Danone and the Monetary Authority of Singapore (MAS).