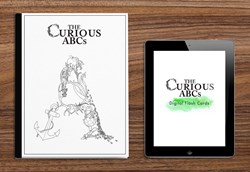 The Curious ABCs is truly a modern teaching tool, and one that is as timeless as it is beautiful.
New York, NY (PRWEB) October 03, 2013
The Curious ABCs is an illustrated alphabet designed to make the the experience of learning to read a more engaging and interesting one for kids.  At the same time, each letter is a beautiful and completely unique piece of artwork.
Kevin Lindberg, designer and illustrator of The Curious ABCs, launched a Kickstarter campaign to self-publish a hardcover book of the complete alphabet and create a digital flash card app for the iPad. The campaign ends on October 10th and is 1/3 of the way to it's fundraising goal.
 
Each letter of the alphabet is a collection of highly detailed illustrations of items that start with that letter. The items are layered and arranged in a way that creates a complex composition in the form of the letter. As you explore the letters, clever details reveal themselves, like a hammock creating the cross bar for the letter H, or a family of marching elephants that create the foot of the letter E.
The Curious ABCs is a modern learning tool. We live in a visually dynamic world, and are presented with more imagery and information at once than ever before. The Curious ABCs is a reflection of this. Packaged in a classical illustration style, it helps prepare children to be able to make multiple associations within a single concept.
People everywhere, from New York to Australia, have backed The Curious ABCs and the response has been overwhelming. "The project has resonated with a large cross-section of people.  We've had much enthusiasm from schoolteachers excited about the classroom possibilities, and we've had responses from fans young and old who just love the illustrations," says Lindberg.
In keeping with the initial concept, the rewards for backing The Curious ABCs on Kickstarter range from the app and book to a series of art pieces: $10 for the iPad app, $30 for the hardcover book, $40 for a printed and framed letter of your choice and $40 for a large, 20"x30" printed posted of the complete alphabet.
The Curious ABCs is truly a modern teaching tool, and one that is as timeless as it is beautiful. Help make this product a reality by pledging via Kickstarter by October 9th!