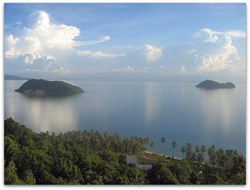 New York, NY (PRWEB) October 01, 2013
Drishti Yoga Teacher Training today announced their first Yoga Teacher Training in 2014 will be in Thailand from February 5th- March 1st. This is will be the first time the school will hold a training in South East Asia.
Limited spots are available for the course. Drishti will limit participation to only 16 students to ensure an intimate experience. The exact location will be on the small remote Island of Koh Phangan. "While the Island is mostly known for its full moon parties, there is a whole other side that is quiet and secluded making it the perfect tranquil setting for our Yoga studies." Explains Co-Founder Sarah Walsh.
The Drishti Yoga Teacher Training in Thailand will be held at the Monte Vista resort known for their Ayurveda Treatments and local Thai Massages. "We specifically chose Monte Vista to host us because of their holistic offerings. The students will be studying the system of Ayurveda so we thought it would be important to have exposure to the treatments not to mention their bodies will be in need of some TLC after all the yoga!" says Co-Founder Carri Uranga.
Students will have a chance to absorb the local culture during Seva or selfless service by going out into the community and volunteering. Honoring the locals and giving back is part of Drishti Yoga Teacher Training main messages and belief.
About Drishti Yoga Teacher Training
Discover the impact of intimate personal attention combined with focused training in exotic locations with Drishti Yoga Teacher Training. Combine your passion for Yoga and your love of travel to create a transformative experience on and off the mat.
Upcoming trainings will be held in Thailand from February 5th- March 1st and Costa Rica from March 23rd- April 15th, Greece July 8th- 31st. For detailed information on these trainings and to find how else Drishti is making a ripple effect in the Global Yoga Community visit us at DrishtiYogaTeacherTraining.com.