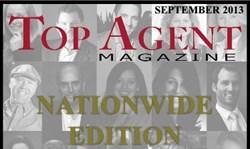 Aspen, Colorado (PRWEB) October 01, 2013
This September, 2013, the prestigious real estate magazine, Top Agent Magazine, recognized Portfolio Aspen Properties principal real estate broker, Erik Berg, in a feature article. The article discusses Berg's background and start to his real estate career, comparing Berg's past life in sports with what it takes to be a successful real estate broker in Aspen, Colorado.
The highlight of article focuses on Berg's decision to leave the large international brokerage Sothebys to start his own company and what it takes to rise to the top. "When I left to start my own company, every one of my clients switched with me," he says. "Not 80 percent. Not 90 percent. Every single one of my clients came with me." Berg says he attributes his clients' loyalty to his integrity, enthusiasm, seemingly endless energy and availability 24/7. He wants people to believe in these qualities not because Berg says he embodies them, but because he proves it to them, which will in turn gain loyalty in a competitive market.
The full feature story can be found at: http://bit.ly/19dyoOz
For more information on Aspen and Roaring Fork Valley real estate or Portfolio Aspen Properties please visit http://www.portfolioaspen.com/.
About Portfolio Aspen Properties
Portfolio Aspen Properties draws from the largest and most comprehensive network of available homes in Aspen and the Roaring Fork Valley to make sure its clients see all of the properties that meet their criteria. Portfolio brokers deals for clients looking to buy Aspen property, sell Aspen property, and invest in Aspen property. The company also provides its clients with a diverse collection of high caliber luxury rental properties in the Aspen area.