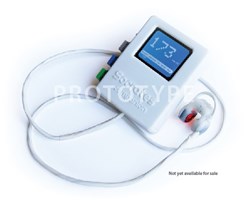 "With the help of the global community, we can change the world." - Scott Smith, CEO
Dallas, Texas (PRWEB) October 15, 2013
Socrates Health Solutions today announced that the company has launched an Indiegogo Crowdfunding Project to raise funds for submitting their Socrates CompanionTM Noninvasive Glucose Monitor for FDA approval. Companies have invested millions of dollars for more than 20 years to try and produce an affordable, Noninvasive Glucose Monitor.
Using new, patent pending technology, Socrates already has a working prototype, as demonstrated in the Indiegogo video. The campaign is now live at http://igg.me/at/socrates/x/5026288 and the company is asking supporters to pledge at any level to help fund the costs associated with FDA approval including clinical trials.
The Problem
In the U.S., there are over 26 million diabetics and approximately 2 million new patients are being diagnosed every year. Worldwide, there are 371 million diabetics. 84% of these seek treatment requiring frequent glucose testing. The testing devices available today require finger pricking and the purchase of test strips. This is painful, inconvenient and expensive. The World Health Organization predicts that diabetes will be the 7th leading cause of death in the world by 2030.
The Socrates Solution
Socrates CompanionTM, provides a convenient, accurate and pain-free glucose reading which does not require the collection of blood.
Supporting Quotes
"Socrates is very proud to announce that we have produced a working and affordable Noninvasive Glucose Monitor, but our vision and our ultimate goal are to improve the lives of diabetics everywhere. To reach that goal we need FDA approval and we are asking for your support" said Scott Smith, Chief Executive Officer of Socrates Health Solutions.
About Socrates Health Solutions, Inc.
Socrates Health Solutions is headquartered in Dallas, Texas and is a Delaware-based corporation. We are a company committed to improving access to affordable care through the application of innovative technology and delivery models.
For more information about Socrates Health Solutions, visit http://www.socrateshealthsolutions.com.
FDA Disclaimer
Socrates CompanionTM is not for sale and is not currently FDA approved.
Media Information - info(at)socrateshealthsolutions(dot)com (888) 656-9807
Socrates Health Solutions, Inc.
350 North Ervay #1806, Dallas, TX 75201
Telephone: (888) 656-9807