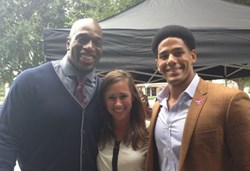 (PRWEB) October 01, 2013
WWE superstars will be wrestling at the Mississippi Coast Coliseum tonight at 7 o'clock, but their show isn't just about entertainment. They are also promoting their involvement in the Susan G. Komen Breast Cancer Foundation and the launch of their Rise Above Cancer campaign.
WWE superstar Titus O'Neil has a personal story about breast cancer. His grandmother, who he called the rock of his family, died from breast cancer in 1993.
"There was a time I was going to give up on football, basketball, everything because she was the one that kind of got me into these things. She wanted me to keep going and keep pushing to do these things. So that's one of the driving forces to make me the man I am today. And fortunately, I am able to be a part of WWE and Susan G. Komen Foundation continuing what she would want me to do is rise above cancer," O'Neil said.
He and his partner in the ring Darren Young and WWE's Natalya Wilson were signing autographs, taking pictures with fans at Memorial Physician Clinic Diagnostic Center in Biloxi.
They even sang a song and danced expressing how they hope to raise millions of dollars for breast cancer.
About The Burke Management Firm
The Burke Management Firm is a Los Angeles-based entertainment management company that provides a comprehensive service to celebrity talent including but not limited to actors, comedians, reality TV stars, athletes, musicians, models as well as authors. Since its inception in 2007, the firm manages notables such as Roy Jones, Jr., Basketball Wives LA star Jackie Christie, Todd Bridges, Michael Coylar, OWN's Six Little McGhees as well as WWE Superstars Titus O'Neil and Darren Young. The Burke Management Firm