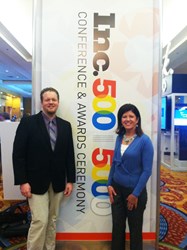 Our rapid growth is a result of innovation and risk taking.
Anacortes, Wash. (PRWEB) October 02, 2013
For the second year in a row Productive Dentist Academy (Academy), a dental-marketing and dental-consulting company based in Washington State, has secured a prestigious spot on Inc. Magazine's 500|5000 list for fastest-growing companies in the United States.
"Our rapid growth is a result of innovation and risk taking," says founder Dr. Bruce B. Baird. "We have long felt that traditional consulting based solely on the expertise of one person is an outdated model. In my own dental practice, I have utilized many consultants over the years. We knew that the marketplace had shifted and dentists needed a team of experts, not just the opinion of one person."
In addition to expanding this highly trained, diverse pool of dental-related business consultants, the Academy's fast growth and success is the result of expanding it's robust design agency. The Academy's Marketing Services Group applies deep analytics to create comprehensive marketing plans based on practice budget and expected ROI.
As a result, the company has experienced an astonishing 99 percent growth in the last three years and increased its revenues from $1.7 million to $3.3 million. It has also increased its number of employees from nine to 25. All of this has placed it firmly on the Inc. list of fastest-growing companies at position 3,256.
"We are unique within dentistry." said Vicki McManus, COO and partner. "Most dental consultants make recommendations and then outsource to various vendors to help their clients succeed. Our design team gives us complete oversight with websites, online advertising, direct mailers, etc; we are then able to better integrate these activities within the business and team."
The Academy will receive its award at the Inc. 500|5000 Conference & Awards Ceremony in National Harbor, Maryland, Oct. 10-12.
About Productive Dentist Academy:
Founded in 2004, Productive Dentist Academy has already become one of the country's leading providers of dental marketing and dental consulting services as well as the country's most highly-sought-after provider of dental seminars for dentists seeking to increase their practices' efficiency and profitability with continuing education for licensed dentists. Owned by Dr. Bruce Baird (CEO) and Vicki McManus (COO), Productive Dentist Academy also helps mid-career dentists begin the process of preparing their practice for transition. The Academy consists of a team of consultants in the areas of hygiene, public relations, dental marketing, insurance/PPO negotiation, and other major fields of dentistry. This team helps dental practices execute agreed-upon plans to increase productivity, profitability, team building, improved service mix, hygiene department development, and more. The company is based in Anacortes, Wash., and currently works with more than 1,200 private-practice owners throughout the United States.
About Inc. Magazine's 500|5000 list:
Complete results of Inc. Magazine's 500|5000 can be found at http://www.inc.com/inc5000/list/2012, including company profiles and an interactive database that can be sorted by industry, region, and other criteria. In a stagnant economic environment, the median growth rate of 2012 Inc. 500|5000 companies remains an impressive 97 percent. The companies on this year's list report having created over 400,000 jobs in the past three years, and aggregate revenue among the honorees reached $299 billion. Inc. Magazine's 500|5000 list represents the most comprehensive look at the most important segment of the economy: America's independent entrepreneurs.
###