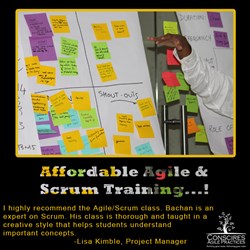 Denver, CO (PRWEB) October 04, 2013
This highly interactive workshop on Agile and Scrum covers basic and advanced topics like Scrum framework, Scrum roles, Scrum meetings, Scrum artifacts, and Scrum simulation (optional). This course is eligible for 8 PMI PDUs as well as 8 PMI ACP contact hours. This training will be conducted on Oct 25, 2013 at Denver, CO.
This course is intended for anyone who is interested in knowing more about Agile and Scrum. Typical roles would include business analysts, project managers, developers, testers, managers and directors. The course also provides an insight to folks outside Software Industry who would like to apply it in their projects.
Conscires strongly believes in the power of Scrum to transform workplaces for the better and bring in employee satisfaction as well as customer delight. Conscires has the vision of sharing this knowledge in such a way that money is not a barrier for learning. With this goal, Conscires provides a Pay It Forward option, at a reduced price for a limited number of seats. The regular price for this training is $195 and the Pay It Forward price is $95.
More information on this class and the details for registration can be found at: http://agile.conscires.com/agile-training-scrum-training-denver-17/.