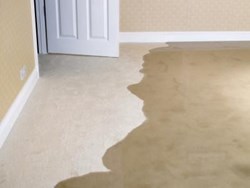 Now announcing 24 Hour flood damage control services in Las Vegas, NV.
Las Vegas, NV (PRWEB) October 04, 2013
When it comes to controlling damaging flood waters that have entered a home, time is the most important factor, says the owner of Green Home Carpet Cleaning in Las Vegas, NV. Immediate effects include the warping of wood and drywall and the introduction of chemical and biological materials into the home from contaminated waters. In as little as 24 hours, molds and mildew begin to grow and within as little as one week, woods and other materials in the home can begin to rot past the point of no return. The good news is that there are professional flood control experts like Green Home Carpet Cleaning in Las Vegas that work around the clock.
"Its never to early or too late to call us for any emergency flood damage control," says the owner of Green Home Carpet Cleaning, "We're available 24 hours a day 7 days a week to make sure we take care of the problem quickly and efficiently."
If any flood control expert suggests that it is okay to wait to begin control and clean up until their schedule allows, it is strongly recommended that you move on immediately to another company. Beginning to control flood waters right away can save health problems and potentially tens of thousands of dollars in repair, restoration and/or replacement of costly items. Obtaining a professional 24-Hour emergency flood control expert right away is also important because attempting any sort of clean up on your own can be dangerous. Handling contaminated materials like lead paint or septic waste can cause very serious health concerns and so it is always best to wait until a professional can asses the situation. 
Using state-of-the-art flood control equipment such as Hydro-X Extreme Extractors, LGR (Low Grain Refrigerant) and desiccant dehumidifiers, along with turbo circulation fans and eco-friendly cleaning solutions, Green Home Carpet Cleaning in Las Vegas will get flooded homes clean, dry and free of contaminants immediately. And, because they are a full-service carpet, upholstery and tile cleaning company, they offer professional follow-up cleaning and treatment to the floors and upholstered home furnishings. 
Green Home Carpet Cleaning in Las Vegas takes the health and beauty of their clients home very seriously which is why they offer this 24-hour emergency Flood Control service to consumers. They know that they could potentially have more work to do by waiting to get things under control - and by extension have higher invoice dollars - but this is not the way they operate. So, if you live in the Las Vegas, Summerlin, Henderson, North Las Vegas or North Las Vegas areas, you can give Green Home Carpet Cleaning a call anytime day or night. If you live outside of our service area and they are unable to provide service, they urge homeowners who have been affected by flood waters to immediately find a 24-Hour Emergency Flood Control expert in their area.