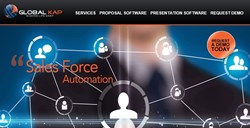 Your Sales force can for less than a 1% cost can get a 25% productivity increase from proposal writing sotware
New York (PRWEB) October 07, 2013
New York, USA, October 7th, 2013: Global KAP offers sales force automation software which is in the leading Gartner Magic quadrant. Organizations are extending their sales operations to include sales proposal, tender and presentation management. Moving away from ad hoc processes is essential to achieve winning outcomes more consistently and predictably.
Sales teams need to have the right tools in place to deliver on sales targets. Many organizations have invested in CRM's as a first step for managing the sales cycle but have not put in without following through with best practice processes for the creation and management of written client documents. Clients sign off business and make decisions for awarding business by reading proposals, expressions of interest, pitch books and actually sign contracts. If the company is missing a proposal writing software for generating the most important sales deliverables, the written documents, ask why and investigate the difference this could make.
The major improvements within the proposal software are allowing sales professionals to:
Leverage mobility,
Produce tailor made sales proposals and presentations whilst they are with their clients.
Track all documents,
Manage work flows centrally, and
Have full visibility of the pipeline within their organization.
Having a sales force team responsive to the needs of clients gives a competitive advantage which is hard to beat. The easier it is to manage this area, the better the quality of forecasting, planning the right resources appropriate for each initiative.
Introducing the latest advancement to online sales force automation software to the enterprise marketplace, Mr. Simon Zaydenberg, global consultant at Global KAP says, "In all my years of document management, including my time at Macquarie Bank, I have never seen or used a more intuitive solution. When people see the solution for the first time, they realize it is not like traditional solutions. The ease and speed with which users are able to learn and adopt new best practices for developing their own sales documents, is second to none. Leading clients are rolling out proposal software for mobile devices to offer clients branded, winning and compliant sales documents and presentations."
"One place to find all the necessary items required to win business, which integrates to your CRM, and traditional document management solutions is giving industry leading clients 25% and more productivity gains. There is no reason for companies not to empower their sales teams and client services teams with the world's leading sales force automation."
Controlling and managing sales proposals in an efficient way is of utmost importance for any organization to win sales proposals and bids. The solution offered by Global KAP helps in efficient control and production of proposals and therefore helps in successful bidding outcomes.
When managing a regional or global sales operation, there are known difficulties associated with different languages. By having a central master record as the basis for the content in all languages, accuracy is maintained and the same message is presented everywhere. Now sales operations can manage all organizational content needed from the one library, and when a master record is updated, the other languages are work flowed to the owners and updated in line with the master record or content. Consistency and time saving by managing this process is mandatory to an organization's ability to be effective.
With advancement in the enterprise search for superior use of the content in the corporate library, and easy navigation all adds to time saving in the use of re-usable content, the management of content and the compliance of the library content. Compatibility of corporate content is easy with indexing and search of Microsoft Office (such as 2007, 2010, 2013) files like Word, Excel, PowerPoint and PDF's. There are almost unlimited ways to search and navigate corporate IP in one place, and it has never been easier with the new advancements in search and categorization. An organization needs solutions which all teams can use, not the few. And this is exactly what has been delivered once again.
To minimize the risk in deploying a solution on which an organization will rely for sales success, by hitting targets, tracking opportunities in the sales pipeline and making reliable forecasts so staff can apply appropriate resources to projects and back office functions, one needs the leading proposal management solution. Software as a Service (hosted) or an installed option will deliver winning outcomes for any business. Ask a Global KAP consultant or Simon Zaydenberg how one can start using the best of breed workflow practices today for winning sales proposals, rfp's, presentations, bids and tenders and empower the sales team now.
About Global KAP:
Global KAP was established to provide organizations with solutions to improve their sales processes and business documentation solutions. Knowledge management and intellectual property (IP) have been recognized as valued resources. Global KAP establishes the processes of managing the knowledge and corporate IP which is applied to achieving sales revenue outcomes. Collaboration is the key to successful outcomes and sales automation.
Global KAP's specialized team of consultants assists organizations in deploying sales force automation solutions online or installed. The production and creation of an organisation's most valuable sales and business documents means increased win rates and superior productivity of sales and business development teams. Win more business through implementing improvements in the sales process, documentation creation process (sales proposals, complex tenders, bid management, brochures, contracts, presentations).
Global KAP consultants come from Industry sectors including IT, virtual data rooms, communications, defence, government, and finance. Global KAP consultants share their knowledge and support clients on a global basis to make their lives easier. To find out more visit Contact Global KAP http://www.globalkap.com