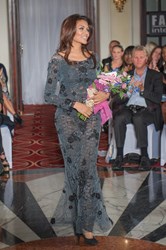 London, UK (PRWEB UK) 2 October 2013
Earlier this month saw Next Day Bouquet sponsor a principle event at the annual London Fashion Week for the upcoming spring/summer season, where many international designers showcased their debut collections. The collections were showcased at two events, one on the Friday and one on the Saturday, where gorgeous dresses were put on display. It was hosted at The Guoman Charing Cross Hotel, in the Betjeman Suite; the hotel itself is fascinating, and has recently undergone a multi-million pound rejuvenation. The suite is elaborate, with marble pillars, a dance floor, a sculpted ceiling and glittering chandeliers, making it the perfect setting for such a show. Next Day Bouquet were thrilled to sponsor such an event and provide the flowers for the shows, which were given to the designers of each collection.
A small but exclusive audience turned up, including British-American singer and former X Factor mentor Sinitta. As the lights dimmed and the music started, the models came out one by one. Collections varied with long silhouettes, flattering shapes and delicate fabrics. The dresses were gorgeously feminine and many were real head turners, sure to catch the attention of any room. This proved to be a real showcase not only for the designers but also for the fabulous flowers from Next Day Bouquet.
The dresses and flowers featured a range of colours too, some with fantastic vibrance. Some dresses just had a touch of colour, others featured all over print. The whole range of both flowers and dresses was stunning, and the Modern Couture collection proved very popular with the audience as did the flowers.
At the end the models all did a final walk together, and they were followed out by each designer holding a beautiful bouquet of flowers from Next Day Bouquet, which looked jaw-dropping against the elegance of the room. The audience had loved the collection, as well as the location, the music and of course, the flowers. The event was a fantastic look ahead to the upcoming months for Next Day Bouquet, and many can't wait to see their progress through the next 12 months.
To get in touch, please contact:
Andrej Mikuz – Next Day Bouquet:
Unit 8,
Lower Syndenham Industrial Estate,
Kangley Bridge Road,
Sydenham,
London,
SE26 5BA
cs(at)nextdaybouquet(dot)com
http://www.nextdaybouquet.com/
http://www.twitter.com/nextdaybouquet
http://www.facebook.com/nextdaybouquet