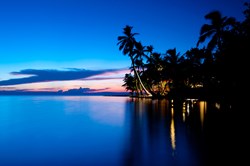 So It looks like we still have a ways to go before the Breaking Bad - Belize connection runs its course.
San Ignacio, Belize (PRWEB) October 03, 2013
After being inundated with enquiries about rumours of Breaking Bad actors visiting, planning to visit or currently staying in Belize, the popular Belizean eco-resort The Lodge at Chaa Creek has issued what they are calling the final word on Breaking Bad in Belize.
"It's been fun, but now that the final episode of Breaking Bad has been aired, we thought we'd seen the end of the Belize - Breaking Bad connection," Front Desk coordinator Elsie Pacheco said yesterday.
"But now we've received several emails from fans saying that Bryan Cranston just made a joke about using some charity money the crew raised to come to visit Belize!"
Ms Pacheco said the email referred to an article in the National Post about a fundraising event organised in part by Aaron Paul to benefit the Kind Campaign, a charity led by his wife Lauren Persekian that aims to increase awareness about bullying of girls. By all accounts the fundraiser was a success, raising some $1.8 million for the charity.
According to the article, Bryan Cranston, who played conflicted teacher-turned-meth-manufacturer Walter White in the hugely popular series quipped, "With $1.8-million raised tonight, you can take a helluva trip to Belize!" and further joked. "Let's all go to Belize!"
"So It looks like we still have a ways to go before the Breaking Bad - Belize connection runs its course," Ms Pacheco observed.
Ms Pacheco is probably right. According to another article in the Hollywood Reporter, which also covered the fundraiser and quoted Bryan Cranston's remarks, one of the drinks served at the star-studded event was a custom cocktail called "A Trip to Belize."
"We'll definitely have to find the recipe for that one," Ms Pacheco said.
There is no doubt that the mentions of the tiny English speaking Caribbean country have been a boon for Belize, which just celebrated its 32nd year of independence from Great Britain September 21 and, with a minuscule marketing budget compared to its Caribbean competitors, has been relying on positive word of mouth to create awareness of its many attractions, such as the world's second largest barrier reef and a pristine rainforest dotted with a plethora of Maya archaeological sites.
After one Breaking Bad character, Saul, the morally questionable lawyer used a "trip to Belize" as a euphemism for killing someone, the Belize Tourism Board issued an invitation to the Breaking Bad crew to visit Belize, followed by a personal invitation from the Lodge at Chaa Creek to Aaron Paul and more recently Dean Norris when they indicated an interest in visiting the country.
The Chaa Creek Belize Travel Blog' s take on Saul's mention of "a trip to Belize" was, "Why not? They obviously agree that Belize is heaven! Saul was being kind! He was suggesting they solve the problem by dispatching Hank to Paradise! Get him out of the way in the best manner possible! Send him to his eternal reward!"
"To anyone who has been there, Belize is the closest thing we have to heaven on earth. So if you do a quick substitution, "Have you given any thought to sending him to Heaven?" it makes a lot of sense…"
Chaa Creek co-owner Lucy Fleming said that the tongue in cheek references have become an ongoing source of fun for the management and staff of the Belizean Eco resort.
"We just get the feeling that the cast of Breaking Bad are the sort of people who would fit into our adventure based take on casual luxury," Ms Fleming said, "It's an interesting, unique, entertaining and multifaceted group of actors, and you can say the same for Belize."
Whether any of the Breaking Bad crew actually takes Chaa Creek up on their invitation waits to be seen. But there's no doubt the way the Belize Tourism Board and resorts like Chaa Creek handled the situation turned a potential public relations debacle into a PR boon.
ENDS