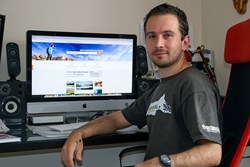 As with many start-ups and technology companies in the World, NatureFlip have opted to raise finance using a crowd-funding method, Indiegogo.com
London, United Kingdom (PRWEB UK) 1 October 2013
(Marketing Empire PR) – Run a search on the Internet, and one will find plenty of sites that list their version of the most fascinating attractions around the planet. One new website, NatureFlip.com has developed an ambitious plan to index all of the natural attractions of the world.
The functionality of the site also enables users to search for attractions based on their taste, as well as proximity from a certain location.
The first known list of the wonders of the world was recorded in ancient Greece and included such sites as the Great Pyramid of Giza, the Hanging Gardens of Babylon and the Colossus of Rhodes. Since that time, many other civilisations have designated various locations as wonders of the world.
In 1972, UNESCO put together the World Heritage List. CNN created a wonders of the world list in 1997, and US News created one in 2006. CEDAM International has even put together a list of the best underwater attractions on earth.
Currently, Nature Flip details approximately 300 natural wonders, but ultimately, their goal is to incorporate all of them. The web portal contains geographic tidbits, useful activity guides and high-quality photo galleries - a place for adventurers, travelers and outdoor enthusiasts to learn more about the exciting destinations on their bucket list.
"NatureFlip is more than just a travel tool," explained the site's co-founder, Daniel Babusca. "It's a way to interact with others who have the same interests as you do through the sharing of reviews and photos and experiences. It will help nature lovers find gems they never knew existed, some of them practically at their doorstep."
NatureFlip's founders are in the process of seeking funding so they can expand their site, incorporate additional functions and add a mobile app. As with many start-ups and technology companies in the World, NatureFlip have opted to raise finance using a crowd-funding method, Indiegogo.com – the project is listed from September 30th 2013 for 35 days. The link can be found here for those interested in getting involved: http://igg.me/at/natureflip.
Their goal is to be the "search engine of natural attractions," and with each addition they make to the site, that objective moves closer to becoming a reality.
--END--
Notes to Editors:
You have full permission to rewrite this article and feature it online/offline. For photography, high-res images, or interviews - please contact using the details below.
Contact Name and Position: Daniel Babusca, Founder
Company: NatureFlip
Website: http://www.NatureFlip.com
Email: contact(at)natureflip(dot)com
Telephone: +44 (0)7984356511