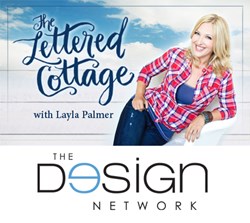 Layla has a very loyal following of blog subscribers who feel personally engaged and connected to her brand of southern charm and cottage style. We can't wait to bring 'The Lettered Cottage' and Layla's projects to the entire TDN community.
Jamestown, North Carolina (PRWEB) October 02, 2013
The Design Network is proud to announce its partnership with lifestyle blogger Layla Palmer, whose new video series 'The Lettered Cottage' launched on TDN October 1, 2013.
Each episode of the 'The Lettered Cottage' will follow Layla as she tackles common design dilemmas in fun, fresh and affordable ways. Along with her (sweet home) Alabama-based team, Layla always starts by identifying what's not working, then dives in with vibrant, easy-to-understand solutions that won't break the bank. 'The Lettered Cottage' combines humor, practical tips, and inspiring ideas - all with a cottage-style twist.
Hailing from Pike Road, Alabama, Layla began authoring her blog http://theletteredcottage.net in 2008 to share her passion for writing and love of cottage style. In January of 2011, she implemented a feature called Pick My Presto, inviting readers to send in photos of their biggest design dilemmas, which she digitally alters into inspirational images that show the hidden potential behind each space. The success of this popular feature combined with Layla's creative solutions for everyday design issues foretell a successful video series that will bring these processes to life. Together, Layla and her husband also produce articles for HGTV.com, and shoot and style interiors for several home magazines.
"I believe that Layla is going to bring a special perspective to the Design Network," says TDN Founder, Jason Harris. "She has a very loyal following of blog subscribers who feel personally engaged and connected to her brand of southern charm and cottage style. In contrast to some of the more extreme, high-end home projects that may be seen on The Design Network, Layla offers a DIY perspective for achieving a designer look on a budget. We can't wait to bring 'The Lettered Cottage' and Layla's projects to the entire TDN community."
About The Design Network:
Launched in January 2013 by home furnishings industry veterans Jason and Jeff Harris, The Design Network is a broadband, all-screens network that aligns the best designers, architects, furniture purveyors, video producers and home enthusiasts to offer inspirational, instructional and entertaining videos about home design and fashion. By serving on-demand content in a new, relevant and fresh way, and reaching home enthusiasts through a multitude of screens, anywhere at any time, the Design Network is an entertaining resource for design inspiration, expert advice and product information, as well as a growing, vibrant community built on a shared passion for all things "home."