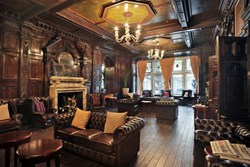 Complimentary English breakfast for two individuals (per room) the next morning
London, United Kingdom (PRWEB UK) 13 October 2013
Its transition phase in London's weather as autumn is making its way to replace summer and hence shops, stores and malls are busy in replacing their collections to cater to the needs of customers. Latest autumn collections are getting unveiled at the display windows replacing the summer essentials and hence it's a grand shopping time for the citizens of London as well as the visitors. For visitors who have got a shopaholic hidden inside, are sure to have a gala time in London this season as 'new arrivals' are being readied to catch their eyeballs. Keeping this in mind, the 4 star hotels london have designed varieties of shopaholic breaks to attract more business.
Grand Royale London Hyde Park, the majestic property near the Lung of London' too has its own set of plans to delight its guests with some special services. The deluxe hotel has designed a special Shopaholic's Break package, which apart from ensuring a luxurious stay and special privileges at the hotel, would excite their 'shopaholic' soul.
The Shopaholic's Break
Named very accurately, Grand Royale London Hyde Park's Shopaholic's Break is a host of exciting services bundled together. By availing the package, guests can enjoy:

Overnight stay in a luxurious double room
Complimentary English breakfast for two individuals (per room) the next morning
Fresh fruits, chocolates and a bottle of champagne in room during check-in
Free transfer to Oxford Street
Note: Oxford Street is a haven for the shopaholics in London since it makes way to a number of malls and departmental stores in the city, many of which are flagship stores of globally popular brands.
Complimentary Services
Other than the Shopaholic's Break, guests can enjoy a series of complimentary services during their stay at the Grand Royale London Hyde Park this autumn. The services are:
Complimentary Broadband internet access in room (available in all rooms)
Complimentary Wi-Fi access in all public areas inside the hotel, especially reception and lounge
Complimentary full course English breakfast (on direct booking of rooms)
Note: Direct booking of rooms at Grand Royale London Hyde Park could be made either by visiting the hotel's official website at http://www.grandroyalelondon.co.uk or by calling its central reservation team at +44 (0) 20 7313 7900.
Enjoy Time at the 'Sky'
Grand Royale London Hyde Park wishes to share another great piece of information with viewers through this release. Popular sports channel Sky Sports is now showing at the hotel's luxurious bar. Hence sport lovers would have a gala time at the bar every evening.
Time for the PruHealth World Triathlon Grand Finale
A trip to London this autumn would be more exciting for sport lovers since its time for the PruHealth World Triathlon Grand Finale. The World's largest triathlon event with a participation of 8,500 athletes from all corners of the planet and tough competitions in levels like Junior, Under 23, Elite, Paratriathlon and Amateur World Championship titles are expected to make the event a grand spectacle. The Grand Finale would be at the Hyde Park, which is easily reachable from Grand Royale London Hyde Park.