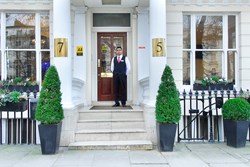 Complimentary unlimited Broadband Internet service in room (available in rooms irrespective of standards)
London, United Kingdom (PRWEB UK) 13 October 2013
Crystal clear sky and soothing wind with a hint of cold is signaling the arrival of autumn in London. Yes, it's the time to experience autumn bliss in the majestic European city and a perfect season to make a trip for the outsiders. Events are lined up, shops are getting dressed with new season's collections and hotels are gearing up to play host anticipating a huge rush of tourists. Autumn events in London include the International Fashion Week and London Design Festival and both are round the corner since its September. Autumn is one of the finest seasons to spend a vacation in London and this year, visitors are going to experience the best autumn of their life, since some deluxe properties standing at the prime locations in the city have designed some special packages to make their 'honorable' guests feel more honored.
The London Premier Hotels, known as the finest accommodation properties in the UK capital, in terms of comfort, luxury and convenience now present some exciting packages and privileges to ensure a grand autumn break for their guests.
Complimentary Services:
Apart from supreme level of comfort and luxury, some great facilities would be provided to the guests in the form of 'complimentary service' at all London Premier Hotels this autumn. The services are:

Complimentary unlimited Broadband Internet service in room (available in rooms irrespective of standards)
Complimentary Wi-Fi in public areas
Complimentary English breakfast when booking is made directly
Note: To book a room at any London Premier Hotel directly, interested people can either visit the official website for the hotel chain or can contact with the central reservation team. http://www.londonpremierhotels.com is the official website for London Premier Hotels. To contact the central reservation team, one has to dial +44 (0) 20 7745 1212.
Special Stay Offers:
To make the London trip and especially staying at the city more economic for visitors, the London Premier Hotels now announce a series of Special Stay Offers. The London hotel offers are aimed at providing some monetary relief to the guests. The offers are:
Stay 3 nights, get 15% off
Stay 4 nights, get 20% off
Advance Purchase Offer (at Park Grand London Hyde Park)
Stay 3 nights, get 15% off: By choosing to stay at any London Premier Hotel for three nights at a stretch, guests can now enjoy a discount of 15 percent on their cost of accommodation.
Stay 4 nights, get 20% off: By booking a room of any category at a London Premier Hotels for four consecutive nights, one can enjoy majestic luxury and supreme level of comfort along with complimentary services at a price which is 20 percent less than the actual cost of accommodation.
Advance Purchase: By booking a room at the Park Grand London Hyde Park 10 days ahead of the check-in date, guests can benefit from the hotel's special early bird rates.
Tour of Britain Cycle Race
For visitors planning to spend the third week of October in London, are going to have added fun since 22nd is the starting date for Tour of Britain Cycle Race. The event which is completing its 10th year this season is an exciting cycle race where participants paddle through major roads of Great Britain to reach the finishing line. In this edition of the race, the cyclist will pass by the Lake District, the Stoke-On-Trent, Dartmoor and Surrey and finish their quest for the title at Whitehall, London.
For visitors who have opted to stay at the London Premier Notting Hill, this London trip would be special as they would be witnessing the event live.