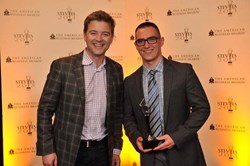 Chicago, Illinois (PRWEB) October 10, 2013
Dominik Kondrat, Director of Software at RIVS, an online interviewing provider, has been named the Silver Stevie Award winner for his work in leading the development of the RIVS platform.
"It has been an honor to be recognized by a prestigious organization like The American Business Awards. Receiving the Silver Stevie Award in the Product Developer of the Year category is a huge achievement for the whole company. It confirms that RIVS is heading in the right direction."
More than 3,200 nominations from organizations of all sizes and industries were submitted this year for consideration. Finalists were chosen by more than 140 business professionals nationwide during preliminary judging in April and May. More than 150 members of nine specialized judging committees determined Stevie Award winners for 2013.
About RIVS Digital Interviews
RIVS is a digital interviewing software that slashes the time it takes to find, recruit and engage the best candidates. With the understanding that no size fits all, RIVS provides written, voice, and video interviewing options for companies such as AECOM, Personified, Ohio State, and Porter Airlines to streamline the recruiting process. RIVS prides itself on being a world class service organization with unparalleled customer support and a consultative, relationship-based approach to sales and client onboarding. For more information about RIVS, please visit http://www.rivs.com and follow RIVS on Facebook, LinkedIn, Twitter, and Google+.
About Stevie Awards
Stevie Awards are conferred in four programs: The American Business Awards, The International Business Awards, the Stevie Awards for Women in Business, and the Stevie Awards for Sales & Customer Service. A fifth program, the Asia-Pacific Stevie Awards, will debut later this year. Honoring organizations of all types and sizes and the people behind them, the Stevies recognize outstanding performances in the workplace worldwide.
Media Contact: Britni Salazar, RIVS.com, 312-583-7491, britni(at)rivs(dot)com