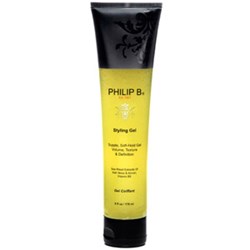 Philip B Styling Gel is an excellent double-duty choice to add shine and strength to your hair as it holds your style gently in place. The Philip b styling gel is perfect for giving hairdos that "wet"
Anaheim, CA (PRWEB) February 17, 2014
DrSkinSpa.com provides top-shelf anti-aging skin care products via their e-commerce web site. This skin care business site provides solutions formulated from naturally derived substances that have been scientifically reviewed and proven to work for a variety of skin care needs. They stock a huge inventory that includes a wide assortment of moisturizing products for skin care and hair needs. The latest addition to their family of product offerings is the Philip B Styling Gel.
Philip B Styling Gel provides volume, control, and texture for any type of hair. It will additionally nourish the hair with vitamins and botanicals to give relief from dandruff by way of providing much-needed moisture. Philip B styling gel also adds volume to hair, making it appear and feel more voluminous.
Philip B Styling Gel is a gentle, soft-hold hair gel that will not flake off. It contains Vitamin B5, also known as Panthenol. Panthenol is a pro-vitamin and is a highly effective humectant, included in many moisturizing products for that purpose. It attracts and binds moisture to skin and hair. The Panthenol in Philip b styling gel is also a moisturizing agent and an emollient. It lets the product smooth onto the hair very evenly, letting the strands shine and create volume.
The pure Irish Moss and Aonori in Philip B styling gel are seaweed extracts that are high in protein. This natural extract combination is also high in magnesium, iron, and Vitamins A and C, all essential ingredients for healthy hair. There are antioxidants in the Philip B Styling Gel algae extracts that help repair scalp damage; the amino acids and vitamins stimulate the hair follicles for new growth. The botanical extracts in Philip B Styling Gel will add luster and integrity to the hair as it increases its health.
Mehgan, the esthetician at DrSkinSpa.com, says, "Philip B Styling Gel is an excellent double-duty choice to add shine and strength to your hair as it holds your style gently in place. The Philip B styling gel is perfect for giving hairdos that 'wet' look that is so desirable in some hairstyles."
DrSkinSpa.com is a popular e-commerce web site that is doctor-owned and -operated. The e-retailing site is well regarded for providing only the highest quality skin care formulations that have garnered positive clinical results. DrSkinSpa.com's products come with a two-week, money-returned guarantee. They also provide customers with a 120% price protection guarantee, free shipping, and complimentary consultations with their Esthetician. DrSkinSpa.com is owned by Crescent Health Center and is based in Anaheim, California.