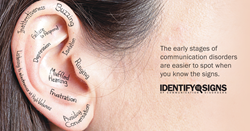 Rockville, MD (PRWEB) October 01, 2013
With roughly 50 percent of Americans over 60 suffering from some form of hearing loss, the American Speech-Language-Hearing Association (ASHA) is encouraging seniors and their families to learn how to recognize the early signs of hearing disorders. ASHA is bringing its message to AARP's Life@50+ meeting in Atlanta, October 3–5, 2013. Early detection, the theme of ASHA's new Identify the Signs public education campaign, is especially important, given new research tying hearing loss to dementia. Early detection is equally critical for speech disorders, many of which emerge later in life due to medical issues such as Parkinson's disease, stroke, and head and neck cancers.
Background:
An AARP-ASHA poll examining the "state of hearing" of AARP members found that a majority (57 percent) of respondents with untreated hearing difficulties don't believe their problems warrant treatment—despite the fact that hearing loss is tied to social isolation and depression, employment difficulties, dementia, and a host of other problems.
To educate the public about the signs of communication disorders such as hearing loss and the availability of effective treatment, ASHA recently launched the Identify the Signs campaign. One of the campaign's resources is a podcast on untreated hearing loss in older Americans.
Older Americans also may suffer from speech, language, voice, and swallowing disorders, which may be brought on by a range of medical conditions. Recently, singer Linda Ronstadt made news when she announced that Parkinson's disease has robbed her of her ability to sing. Close to 90 percent of individuals with Parkinson's suffer from speech disorders. Effective treatment for Parkinson's can help sufferers preserve their voices, as highlighted in a Michael J. Fox Foundation's blog post about ASHA members' research.
What, When, and Where:
ASHA-certified audiologists Akilah Heggs (president, Georgia Speech-Language-Hearing Association), Colleen M. O'Rourke (Georgia State University) and speech-language pathologist Gennith Johnson (ASHA) will be available to discuss these topics Oct. 3 (1-6 p.m.), 4 (11:30 a.m.-6 p.m.) and 5 (9 a.m.-4 p.m. To schedule an interview, refer to the contacts below. Visit ASHA Booth 1702 for more information.
Contact:
Joseph Cerquone, ASHA Public Relations Director, 703-973-7744 or jcerquone(at)asha(dot)org
Francine Pierson, ASHA Public Relations Manager, 301-296-8715 or fpierson(at)asha(dot)org
About the American Speech-Language-Hearing Association
ASHA is the national professional, scientific, and credentialing association for more than 166,000 audiologists, speech-language pathologists, speech, language, and hearing scientists, audiology and speech-language pathology support personnel, and students. Audiologists specialize in preventing and assessing hearing and balance disorders as well as providing audiologic treatment, including hearing aids. Speech-language pathologists identify, assess, and treat speech and language problems, including swallowing disorders. http://www.asha.org/
View all ASHA press releases at http://www.asha.org/about/news.