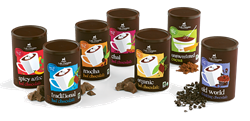 Burlington, VT (PRWEB) October 01, 2013
From Vermont to the Dominican Republic to Africa –Lake Champlain Chocolates (LCC) celebrates their journey toward transparency by partnering with Fair Trade USA in honor of Fair Trade Month in October.
Fair Trade USA is a non-profit organization that works with companies to audit and certify that the products they offer comply with Fair Trade economic, environmental and social standards. Lake Champlain Chocolates, a partner to Fair Trade USA, is proud to carry the Fair Trade Certified™ label on their acclaimed ensemble of gourmet hot chocolates – Organic Traditional, Traditional, Mocha, Chai, Spicy Aztec and Organic Unsweetened Cocoa.
"With each sale of what Travel + Leisure has deemed 'America's Best Hot Chocolate,' LCC is helping to deliver better prices to farmers, improving their communities and protecting the environment," says Director of Marketing at LCC, Catherine Wisloski. "We wanted to increase our transparency to our loyal customers and to better support our communities, both locally and in cocoa growing regions."
In conjunction with Fair Trade Month, Lake Champlain Chocolates will attend the Dominican Republic Fair Trade Farm Tour on October 13 and 14. This venture gives Lake Champlain Chocolates the opportunity to see first-hand the impact that Fair Trade has on the lives of the farmers in the cocoa growing regions.
"We are proud to partner with Lake Champlain Chocolates on this exciting Fair Trade expansion," said Sarah Minarik, Business Development Manager at Fair Trade USA. "It is a genuine commitment to improving the lives of farming families in the Dominican Repbulic, while providing North American consumers with delicious hot cocoa they can feel good about drinking."
Offering Fair Trade Certified products is one of several ongoing social accountability initiatives at the company. In early 2013, Lake Champlain Chocolates achieved Fair for Life – Social and Fair Trade Certification – a certification program for social accountability and fair trade. In addition, LCC works to aid the advancement and sustainability of cocoa growing communities by embarking on direct partnerships with cacao growers in emerging markets.
In Africa, Lake Champlain Chocolates funds the Family Support Scholarship Program together with The World Cocoa Foundation's Empowering Cocoa Households with Opportunities to Education Solutions (WCF ECHOES). This program is designed to expand business opportunities for women and improve education opportunities for children.
To learn more about Lake Champlain Chocolates' Fair Trade hot chocolates and fair trade initiatives, please visit http://vtchoc.com/GU.
# # #
About Lake Champlain Chocolates
A pioneer in the American chocolate movement, Lake Champlain Chocolates is a family-owned company located in Burlington, Vermont. In 1983, Jim Lampman declared he would create upscale American chocolates that would "rival the Belgians." Almost 30 years later, the Lampman family has done just that, by introducing European flavors and tastes using local, Vermont ingredients and by taking a craftsman's approach to chocolate: creativity, patience and mastery. This level of care and craft leads to chocolates that win high praise, year after year, from customers and industry experts alike. Lake Champlain Chocolates are hand made by people who are passionate about their work; products include chocolate bars, as well as the best-selling Five Star Bars, truffles, caramels, gift assortments and gourmet hot chocolate and are available online, nationwide at specialty food and gift stores, such as Whole Foods Market, upscale hotels and inns, and at their three company-owned stores in Vermont.