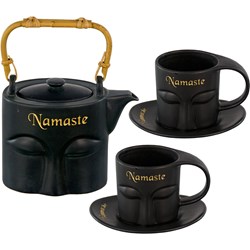 Colebrook, NH (PRWEB) October 03, 2013
October brings shorter days, crisp air and falling leaves. In preparation for winter, many find themselves drawn to items that invite warmth and comfort into their homes, in anticipation of the long season ahead.
Just in time for fall, Kheops International customers will be able to invite their clients to relax and enjoy their favorite hot brew on a chilly autumn day. This month's promo pack features a selection of top-quality tea sets. Each ceramic tea set is embossed with a special design and features a high-gloss finish. Every set comes with a generous 3-cup capacity tea pot and matching cups and saucers.
Nothing soothes and delights like a hot cup of tea. Share a cup with a friend or enjoy a cup during a period solitude and quiet time.
Also included in October's promotion are beautiful wall tapestries with vibrant colors and symbolism to warm the heart and spirit. As the days get shorter, there is nothing as lovely and refreshing as a bright splash of color on the wall to create a warm, inviting atmosphere. Kheops tapestries embrace a variety of traditions and themes. Tapestries can be used as wall-hangings, table coverings or as a focal point for meditation.
Kheops International, one of the world's foremost wholesale suppliers of metaphysical and New Age products, provides an extensive line of meaningful gifts and spiritual tools that comfort and aid body, mind and spirit. The October promotion bundle is a great opportunity to sample products at a deep discount.
To view more offerings from Kheops International visit http://www.kheopsinternational.com/.
About Kheops International
Only the highest quality, specialty items from around the world are sold through Kheops. Retail customers are able to choose from the highest quality home décor, one-of-a-kind metaphysical tools, and other spiritual items to add to their shops.
Kheops representatives travel the world, finding the finest quality merchandise and strive to continuously add exciting new items to their inventory. Their all-encompassing line provides exotic products to various markets including: Metaphysical, New Age, Buddhism, Wiccan and Pagan, general gifts, garden centers and more.