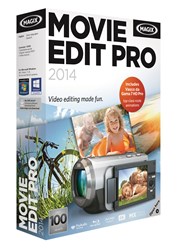 (PRWEB) October 03, 2013
MAGIX Movie Edit Pro 2014 makes it easier than ever before to get started with video editing. Using the storyboard mode and automatic optimization for image and sound, users can create incredible movies in no time at all. Complete beginners can switch to the timeline mode and edit their videos like a pro.
The automatic wizards for video editing, audio dubbing and image optimization, the quick file access feature in the Mediapool, the ability to put both video and audio on one track and the new touch elements and make the program easier and more intuitive to use than ever before.
Accurate video editing on as many as 99 tracks, full 4K and HD support for AVCHD/HDV camcorders and action cameras and over 1500 templates for effects and interactive menus, enable users to create revolutionary work in the highest quality. Further features include Multicam editing (for two cameras) and advanced audio dubbing in 5.1 Surround Sound. Support for Intel WiDi also allows users to stream content from the preview window to compatible devices wirelessly.
Clips and video projects can be imported from MAGIX Movie Edit Touch. Export can be to DVD, Blu-ray Disc, YouTube, Facebook, Vimeo, and as files.
New features:

Improved multitrack performance with faster loading times
Full 4K and HD support for all camcorders/action cameras
Accelerated processing of effects and transitions via GPU
Unique integrated touch elements
Redesigned transition dialog in the Mediapool
Optimized toolbar with all mouse modes in one place
Many new decorative elements, intro/outro templates and menu templates
The Plus and Premium versions include the MAGIX Movie Edit Touch (optimized for Windows 8 tablets) for mobile video editing.
MAGIX Movie Edit Pro 2014 Premium includes over $450 of image-enhancing aesthetic effects to make movies stand out from the crowd. These include proDAD Heroglyph V4 Pro and New Blue ColorFast
MAGIX Movie Edit Pro 2014 (Classic) for $49.99,
MAGIX Movie Edit Pro 2014 Plus for $99.99
MAGIX Movie Edit Pro 2014 Premium for $129,99
Minimum System requirements:
Operates on Windows XP, Vista, 7 and 8, 32bit and 64bit. Requires 1GB RAM and 2GB hard disk space for program installation
http://www.magix.com/us/movie-edit-pro/
About MAGIX:
Review Copies
Please contact: Nova Fisher, Tel +44 1442 351035 email: nfisher(at)magix(dot)net
About MAGIX:
MAGIX is a leading international provider of high-quality software, online services and digital contents for multimedia communications. Since 1993, MAGIX has been developing leading technologies for creation, editing, management and presentation of photos and graphics, videos and music. Internationally, MAGIX operates from branches in the USA, Canada, the UK, France, Italy, Spain and the Netherlands. The product range is targeted towards laymen and professionals alike and goes beyond the PC range to include seamlessly integrated online and mobile applications.
According to its retail sales figures, MAGIX leads in the multimedia software sector in Germany and the most important European markets, and is one of the most successful competitors in the USA. Fifteen years of market presence as well as one thousand awards worldwide testify to the company's power of innovation.
Music, photo, and video software from the market leader - MAGIX