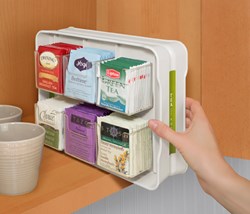 TeaStand is the answer for tea lovers everywhere who are tired of searching through jumbled boxes for their favorite teas.
Chicago, Illinois (PRWEB) October 02, 2013
YouCopia introduces TeaStand, the first tea bag organizer designed specifically for the kitchen cabinet.
At just over 5" wide, the TeaStand fits inside all cabinets and holds more than 100 standard-size tea bags, including popular Bigelow, Lipton, Numi, Stash, Tazo, Twinings and Yogi brands. The TeaStand breaks away from the traditional tea box by placing up to 12 tea varieties on display in an easy-to-reach vertical format.
The Tea Association of the USA reports that on any given day, 160 million Americans—more than half the population—are drinking tea, and that over 65% of brewed tea is prepared using tea bags.*
"YouCopia's tea storage innovation is the answer for tea lovers everywhere who are tired of searching through jumbled boxes for their favorite teas," said Lauren Greenwood, vice president of sales and marketing for YouCopia. "The TeaStand not only removes clutter, but it keeps tea fresh in a dark, dry cabinet."
The tea bag organizer's sleek design makes it easy to grab out of the cabinet and move anywhere. The unit can 'stand' on any flat surface, such as a countertop or table, for easy selection of teas. The TeaStand includes 12 clear, removable bins—six on each side—that allow a full view of tea bag labels to help make selection quick and easy during tea time. The frame is made of durable plastic and the tea bins are top-rack dishwasher safe. No assembly is required.
"The TeaStand is perfect for the holidays, either as a gift for tea drinkers or as an entertaining tool that allows guests to see their tea options, "Greenwood said. "This tea accessory is also great for the office to hold everyone's favorite tea, sugar packets and sweeteners."
The TeaStand is available for $29.95 at Amazon.com.
YouCopia creates innovative home organization products to help you simplify and enjoy life. YouCopia products are available at leading retailers including Bed Bath & Beyond, The Container Store and Amazon.com. Be sure to check out our organizing tips on the YouCopia Blog and follow us on Facebook, Twitter, Pinterest and YouTube.
To request a TeaStand sample or images for review, please contact Cynthia Greenwood at Cynthia(at)YouCopia(dot)com, or call 847-404-8404.
*Tea Fact Sheet, Tea Association of the USA, teausa.com