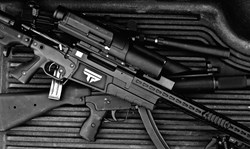 Austin, TX (PRWEB) October 02, 2013
VICE, leader in immersive journalism and enlightening documentaries from around the globe, recently released a 23-minute documentary on Smart Rifle company TrackingPoint. TrackingPoint has garnered massive media attention since their January launch, the company's long range hunting and shooting technology is both awe inspiring and controversial at the same time, and there has been no shortage of press interest. VICE was the first publication to truly embed with the company, spending a week at their high-tech Austin, TX facility, and joining the diverse members of the TrackingPoint team on hunts and testing throughout Texas.
The results were published on VICE's online technology hub, Motherboard, described as "an online magazine and video channel dedicated to the intersection of technology, science and humans. Launched by VICE in 2009, Motherboard raises its eyebrows at the people and things that are making our weird and wonderful present and future, with news, commentary, in-depth reporting, photos, and original video documentaries. Dipping liberally into politics, art, sex, drugs, war, design, nature, space, history and sci-fi, Motherboard skips the useless tech hype to keep its cascade of tabs open to the stuff you should know."
VICE went out on the hunt and tested TrackingPoint's .338 Lapua Magnum and 300 Winchester Magnum rifles, as well as an early prototype of the Remington 2020 digital optic system that uses TrackingPoint technology. TrackingPoint rifles allow for the ethical harvesting of game at extended ranges. The Networked Tracking Scope calculates a ballistic solution that compensates for environmental factors, while the Smart Rifle's Guided Trigger greatly reduces human error involved in accuracy. An integrated camera captures videos and stills from the scope and its heads up display that can later be downloaded to a smartphone or tablet.