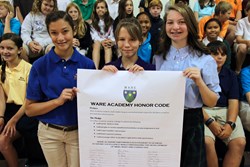 This is one of the most serious things you can do. You are giving your word. Your honor.
Gloucester, VA (PRWEB) October 02, 2013
Ware Academy's middle school students gathered Sept. 30 and vowed not to lie, cheat or steal. They promised not to give unauthorized assistance on assignments or tests and to respect one another's privacy and possessions. And above all else, they swore to encourage other to do what is right and make good choices.
Their promises were made public by signing the Ware Academy Honor Code in front of each other and faculty and staff witnesses.
"This is one of the most serious things you can do," said Kim Croxton, a Ware Academy middle school teacher who witnessed the signatures and led the students in what was the first group signing of the honor code. "You are giving your word. Your honor."
The signed copy of the honor code will be framed and will hang in the Ware Academy halls for the remainder of the year. There are 54 middle school students at Ware Academy this academic year.
Character development is a core piece of the Ware Academy education, said Ginger James, Director of Admissions. In addition to the honor code, each month the school focuses on a character trait and ways to employ it in every day life.
September's focus was trustworthiness. October will feature respect and be followed by responsibility in November, honesty in December, fairness in January, tolerance in February, caring in March, citizenship in April and perseverance in May.
Studies show, according to Ware Academy Head of School, Thomas L. Thomas, III, that parents send their children to independent schools not only for safety and academic excellence, but also for the character development and key lessons on values.
About Ware Academy:
Located one mile from Main Street in Gloucester's historic Courthouse district on a 19-acre campus, Ware Academy is a co-ed, independent day school for students in Pre-Kindergarten 3 through eighth grade.
Ware Academy empowers each student to achieve academic excellence, emphasizing the development of mind, body and character. The primary objectives are to educate the whole child to his fullest potential and for students to acquire a respect and a desire for learning in order to develop into independent, life long learners in preparation for productive and fulfilled lives.
Founded in 1949, Ware Academy is a non-profit, non-denominational, non-sectarian school promoting ethnic and racial diversity. Ware Academy selects students on the basis of academic potential and developmental readiness without regard to race, color, creed, or ethnic origin.
Ware Academy is accredited by the Virginia Association of Independent Schools, the National Association of Independent Schools, and the Education Records Bureau and the Secondary School Admissions Test Board. Ware Academy is also a member of the National Middle School Association, the National Junior Honor Society and the Association of Supervision in Curriculum Development.
Keep in touch with Ware Academy online at http://www.wareacademy.org, on Facebook at /WareAcademy and on Twitter @WareAcademy1.