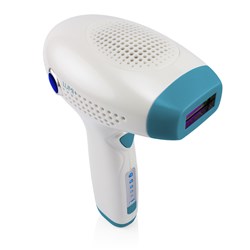 We are excited about our new and improved design. Customers no longer have to worry about replacing their lamp cartridges anymore. Already pre-loaded with over 50,000 flashes, LUMI+™ is ready for use
Montréal, Québec, Canada (PRWEB) October 01, 2013
Incorporating a clinically proven technique called Intense Pulsed Light (IPL), LUMI+™ is safe for use in the comfort and privacy of home and delivers progressively permanent hair reduction results.
Using the latest IPL technology, LUMI+™ helps produce similar results obtained in a professional setting, putting an end to time consuming trips to beauty spas or clinics. Intense Pulsed Light is trusted among dermatologists and medical experts and is the most effective method used in a home-based device. With this state-of-the-art technique, removing unwanted hair is more convenient and effortless for both men and women.
According to Jane Doae, EvoDerma's Communications Director, "We found that more and more people are opting for do-it-yourself devices for at home use. Therefore, with ease-of-use kept in mind, our team worked to deliver a practical machine easily accessible to consumers."
LUMI+ is readily available at http://www.evoderma.com. Tailored to suit individual lifestyles, this beauty tool provides the freedom to fit hair removal into any regular routine. With its small handheld design and travel bag, LUMI+™ is easy to transport and ready to operate.
"We are excited about our new and improved design. Customers no longer have to worry about replacing their lamp cartridges anymore. Already pre-loaded with over 50,000 flashes, LUMI+™ is ready for use," said Justin from the Quality Assurance Department.
EvoDerma's LUMI+™ is a sophisticated device for efficient and long-term prevention of future hair growth and the solution to obtaining a smooth complexion that lasts.
About EvoDerma
EvoDerma Inc. strives to provide cutting-edge skin care and hair removal products for use in the privacy and convenience of the home. Its innovative research and development department is continuously working to offer consumers professional-grade aesthetic products for home use. The LUMI+™ IPL hair removal device, EvoDerma's flagship product, is a testament to the company's commitment to quality, safety and efficiency.