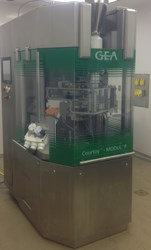 Columbia, MD (PRWEB) October 02, 2013
ConsiGma™, the innovative continuous pharmaceutical manufacturing system by GEA Pharma Systems, can be operated as continuous production system in an existing batch operation, but can also be integrated into a truly continuous oral solid dosage production line. To complete the continuous process line, GEA Pharma Systems integrates ConsiGma™ with the GEA Pharma Systems continuous blender for premixing the raw materials and the Courtoy MODUL™ P rotary tablet press. An advanced control system and online measurement tools enable real time release of the product thereby achieving the full potential of a continuous production line.
New Equipment Installed at GEA Pharma Systems Test and Development Center
To support this "continuously initiative," GEA offers world-class process development services using the ConsiGma™-1 pilot-scale high shear granulator/dryer, pilot-scale mill and blender, and MODUL™ P tablet press. Using statistical software for design of experiments and advanced powder analysis, critical-to-quality attributes are identified, measured, and tracked through each unit operation to develop a full understanding of the design space, such that when the unit operations are run continuously, the control system can adjust the process to obtain the desired final product properties (tablet harness, dissolution, etc.). Due to the reduced amounts of time and material required to produce these experiments, a full design package can be developed in a few days with only 5-10 kg of materials.This is the only installation of its kind in North America.
About GEA Pharma Systems
GEA Pharma Systems is a world leader in providing technically advanced process solutions for liquid processes and for solid dosage forms with the biotechnology industries. GEA Pharma Systems designs and develops both batch and continuous solutions, as stand-alone machines or fully integrated and automated production systems for drying, granulation, tableting, containment, mixing and blending, materials handling, pelletizing, and coating.