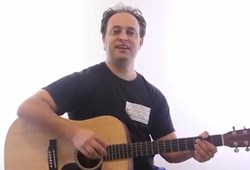 (PRWEB) October 02, 2013
"Super Easy Beginner Guitar Lesson" is the latest YouTube video from GuitarControl.com, the leader in comprehensive DVD-based courses and free web-streamed video lessons. In this video, Claude Johnson, the Founding Father of Guitar Control, channels a bit of the Elvis Presley persona to teach novice guitarists how to play the famous Rock & Roll standard "Blue Suede Shoes."
"Blue Suede Shoes" was among the first songs that signaled the Rock & Roll revolution. Written and originally recorded by Carl Perkins in 1955, it was covered by many other artists, most notably Presley and Buddy Holly, and through the years has become one of the signature songs of the era. It was named one of the "500 songs that Shaped Rock & Roll" by the Rock and Roll Hall of Fame and the original Perkins recording was ranked #95 (well ahead of the Presley cover) in Rolling Stone Magazine's "The 500 Greatest Songs of All Time."
For all its notoriety, "Blue Suede Shoes" is comprised of a simple melody over a very basic chord structure. To begin, Claude introduces the three, basic, first-position chords that are the foundation of the song's rhythm. These chords, the A-Maj, D-Maj, and E7 (a I, IV, V progression) are among the first taught to beginning players and (as he mentions) are at the core of countless popular songs. Claude explains the fingering and then demonstrates the strumming for the chord "punch" of the song's "One for the Money" intro and the subsequent rhythm pattern that drives the rest of the song.
This is the type of lesson beginners find most encouraging -- a lesson that is easy to master but lets them begin to play real music. As such it is a great introduction to Claude's "Ultimate Beginner's Guitar Course," available from GuitarControl.com.
Claude Johnson is the creator and driving force behind Guitar Control. A consummate player and a gifted instructor, Claude offers in this lesson the enthusiastic, accessible, and encouraging instruction beginning guitarists need. However, his Guitar Control courses aimed at more advanced players cover the entire spectrum of guitar techniques. His latest DVD course is "Supercharged Soloing Made Simple."
Guitar Control is a consortium of professional guitarists dedicated to providing the highest quality musical instruction. Producing both web-streamed lessons and comprehensive multi-DVD courses, Guitar Control offers instruction for every style of playing and for all musical genres. Guitar Control's YouTube channel offers 405 (and counting) free video lessons.