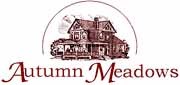 Autumn Meadows has continued to survive for 30 years because of our residents. Keeping them happy and coming back year after year is what allows our business to continue to grow.
Crofton, Maryland (PRWEB) October 03, 2013
Autumn Meadows, a senior assisted living facility, located throughout Crofton and Bowie, Maryland, is kicking off their 30th year of quality care for senior citizens throughout the state of Maryland.
Owner, Susan Masters, says the success of Autumn Meadows is directly correlated to the superb staff that truly cares for the residents they serve.
"Making sure your residents are happy is only half the battle. You have to make sure they have activities to look forward to every day, they feel comfortable and clean in a 'homey' environment, and most importantly, they need to feel good about themselves."
Each day, the residents are provided with home-cooked meals and they look forward to daily activities, games, or events. Keeping their mind active and engaging with peers contributes to our residents' excitement.
Over the 30 years, Autumn Meadows has grown into four different locations that host up to 15 residents per house all in individual accommodations. The four locations throughout Crofton and Bowie, Maryland are conveniently located close to Washington, D.C, Baltimore, and Annapolis.
All of the houses are stacked with around the clock supervision of the residents, registered nurses, and a cleaning staff that takes care of residents' laundry and housekeeping duties. Our rooms can come fully furnished to make the move as smooth as possible.
Autumn Meadows is heavily involved in family interaction. Open door policy is important at Autumn Meadows, as we want the family members to feel as comfortable in our homes as our residents.
"Yes, our staff does a fantastic job," says Susan, "but, Autumn Meadows has continued to survive for 30 years because of our residents. Keeping them happy and coming back year after year is what allows our business to continue to grow."