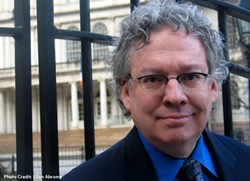 (PRWEB) October 03, 2013
MEDIA ADVISORY
Contact: Justyna Zajac, 212.534.1672 ext. 3480, jzajac(at)mcny(dot)org
Museum of City of New York Hosts The Big Crowd: A Book Talk and Conversation with Bestselling Author Kevin Baker
(New York. N.Y.) – Join bestselling novelist Kevin Baker, "the lit world's sharpest chronicler of New York's past" (Rolling Stone), as he reads from and discusses his new novel, The Big Crowd (Houghton Mifflin Harcourt, September 2013).
Long before the New York waterfront was a site of residential buildings, scenic parks, and bike lanes, it was a bustling place of industrial and commercial activity, sometimes tinged by organized crime and union violence. In The Big Crowd, Baker illuminates the gritty docks of a bygone era and takes us back to the mayoralty of William O'Dwyer in the 1940s, an infamous period of corrupt politics, mafia crime, and one of the great unsolved murders in New York City history. After his reading, Baker will be joined by the City Museum's Andrew W. Mellon Post-Doctoral Fellow Stephen Petrus for a conversation about this ambitious work, described by the New York Times as one of those rare novels "that portray in such a nuanced way the temptations of power, the complex division of control in a great metropolis and the perils of political deal-making" in post-World War II New York.
The event is co-sponsored by Harper's Magazine, the CUNY Gotham Center for New York City History, Houghton Mifflin Harcourt, and Remember the Triangle Fire Coalition.
WHEN: Thursday, October 10 at 6:30 PM
WHERE: Museum of the City of New York
1220 Fifth Avenue, New York (btw. East 103rd and 104th streets)
WHO: Bestselling author Kevin Baker reads from his new novel, The Big Crowd
TICKETS: Reservations are required. Ticket prices: $6 Museum members; $8 seniors and students; $12 general public.
For more information or to register by phone, call 917-492-3395. Visit http://www.mcny.org/event/big-crowd for more details.
About the Museum of the City of New York
Founded in 1923 as a private, nonprofit corporation, the Museum of the City of New York celebrates and interprets the city, educating the public about its distinctive character, especially its heritage of diversity, opportunity, and perpetual transformation. The Museum connects the past, present, and future of New York City, and serves the people of the city as well as visitors from around the world through exhibitions, school and public programs, publications, and collections. For more information, visit http://www.mcny.org.
Directions: By bus: M1, M3, M4, or M106 to 104th Street, M2 to 101st Street.
By subway: Lexington Avenue #6 train to 103rd Street, walk three blocks west, or #2 or #3 train to 110th Street, walk one block east to Fifth Avenue, then south to 104th Street.