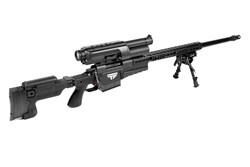 When a Linux-based, Wi-Fi enabled scope turns high-skill sniping into easy shooting, what's in store for the future of guns?
Austin, TX (PRWEB) October 05, 2013
A diverse array of outlets picked up on VICE Motherboard's documentary on smart rifle company TrackingPoint. The documentary provided extensive conversation on the process behind manufacturing smart rifles, just how easy they are to learn, and the impact they can have on shooting sports. The interest in the documentary spread from firearms blogs to pop culture websites to technology forums, and led to many unique responses to the coverage. Tested.com published an article "When a Linux-based, Wi-Fi enabled scope turns high-skill sniping into easy shooting, what's in store for the future of guns?", Ubergizmo.com took a more science fiction approach to their coverage: "Will computers take over the human race eventually? Perhaps, as we do see robots creeping up bit by bit to "invade" different aspects of our lives. When it comes to the battlefield, there is nothing quite like a battle hardened marine, is there? Perhaps an alternative can be found in the solution from firearm company TrackingPoint. This particular solution is a software which has been integrated with its Precision Guided Firearms (PGF), offering shooters near perfect accuracy right from the get go. Known as "Tag Track Xact" or TTX, the advanced target-tracking technology boasts of offering on-point shots over a range of 1,200 yards – which is roughly the equivalent of 22 Olympic sized swimming pools."
Comments about the .338 Lapua Magnum and .300 Winchester Magnum smart rifles on The Firearms Blog discussed the impact of the technology "This is the logical next step in technology and the future of shooting. This is also just the start and just the first integrated system of its sorts, and this makes people nervous. People fear change and to them this, on first glance, changes everything because it is the first time that guns became "computer aided"."
The TrackingPoint rifle shown most frequently in the VICE video is a .338 Lapua Magnum TrackingPoint XS1 precision rifle. The XS1 is the largest-caliber TrackingPoint XactSystem available today. It offers the longest effective range of any Smart Rifle. The XS1's performance is driven by a bolt-action, .338 Lapua Magnum Surgeon™ XL action and uses custom 300 gr. Sierra™ Open-Tipped Match XactShot™ ammunition by Barnes Bullets, loaded to +/- 10 fps standard deviation muzzle velocity. TrackingPoint smart rifles are hunting and safari rifles designed for the technology-forward shooter.  The systems are capable of making shots at out to 1,200 yards (depending on the model) with an extremely high first shot success probability, making them the most accurate rifles on the market.