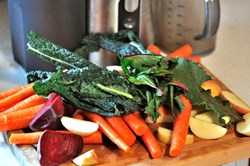 The produce is harvested at peak freshness and is sold in the store below. This is what the new LED technology can do.
Atlanta, GA (PRWEB) October 01, 2013
Gardeners and health enthusiasts can enjoy fresh organic juices all year round, made from produce grown indoors using newly released technology from VeggieFresh LED. From wheatgrass and spinach to grapes and bananas, anything that can grow outside will grow inside with LED Grow Lights.
The team at VeggieFresh LED are focusing a considerable amount of research on juicing as both partners have used it themselves for startling health benefits. One partner juices for cancer and immune system issues and the other for weight loss and total body improvement. The first beat colon cancer and the second lost 110 lbs in 6 months. This father of four children (and one on the way) knows that stress increases health risks and new juicing habits equal a new way of life. Six months later he is doing 4 mile daily walks up a mountain while integrating a lower caloric diet with good food choices.
Introducing the TLM25. VeggieFresh LED has developed a full-cycle Grow Light that is only 25watts. This is a great starter Grow Light for novices and can grow plants to full height in a one square foot space. The website http://www.veggiefreshled.com offers lights in the range from 25 watts to 400 watts. Higher wattages arranged in the right configuration can create whole grow rooms. A spare room, section of the basement, or garage can transform it into a dense forest of edibles to supply a family with fresh, nutritious food year round. An indoor garden could be set up anywhere such as remote military bases, school cafeterias, confined spaces without easy access, weather extreme locations, or anything the mind can imagine. Even in the middle of an arctic winter, growers can enjoy fresh juice extracted from produce grown in the igloo LED grow room next door.
Whole Foods in Brooklyn, NY made recent headlines by building a greenhouse on top of a new retail store. Growing organic micro greens, tomatoes, bell and hot peppers, lettuces and many more things on site is the best way to ensure the freshest produce is on the shelves. The produce is harvested at peak freshness and is sold in the store below. This is what the new LED technology can do. Using superior heirloom seeds, good gardening techniques and a green thumb always helps, but common sense is the rule of the day. Don't over water, don't overfeed, and most insect problems are mitigated by growing indoors. The key here is self reliance, be responsible for what is eaten and juiced.
VeggieFresh LED is a part of the TruLite Industries, LLC's group of green oriented technology companies. Each is ran independently but in congruence with its company wide ethos of entire body wellness through whole foods. An announcement will be made in Jan 2014' with a new platform introduction and long term plans shared with the market. This will also include new domains and product offerings with grow case studies. The founders are passionate advocates of all things natural and encourage everyone to look at food in new ways, both in quality and self-reliance.