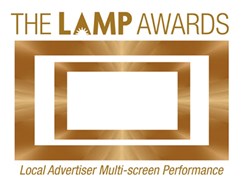 These businesses understand the importance of reaching consumers on multiple screens, and we're thrilled to be able to recognize their efforts.
(PRWEB) October 01, 2013
Throughout the summer, local and regional businesses entered their multi-screen marketing campaigns in the Comcast Spotlight LAMP (Local Advertiser Multi-screen Performance) Awards. Last month, a panel of advertising experts narrowed the field, and now the public has its chance to weigh in before the grand-prize winners are announced in November.
The Comcast Spotlight LAMP Awards are one of the first of their type in local media, designed specifically to highlight businesses that have embraced the opportunity to combine local television and online advertising through Comcast Spotlight. Local and regional businesses who aired multi-screen advertising with the company in 2012 were eligible to participate, entering in one of three categories, based on their annual media spending level.
"From retailers to tourist attractions, from restaurants to health care providers, we had businesses of all types entering their work in the LAMP Awards," said Kellie Grutko, Senior Vice President of Marketing for Comcast Spotlight. "These businesses understand the importance of reaching consumers on multiple screens, and we're thrilled to be able to recognize their efforts."
From now through October 31, examples of each finalists' advertising, along with a summary of their media strategy and results, will be posted at http://www.comcastspotlight.com/LAMP. Visitors to the site may vote once per day for the campaign they feel made the best use of multi-screen advertising in each of the three tiers. The results of the public voting will be combined with the scores from the initial judging. The grand-prize winners will receive a trip to New York in early 2014, including an opportunity to meet personal financial expert Suze Orman, host of The Suze Orman Show on CNBC.
The finalists for the 2013 Comcast Spotlight LAMP Awards, grouped by media spending level, are:
Media Spending Level
$25,000 and under
Benzie County Visitors Bureau (Chicago market)
Plymouth Fitness (Boston market)
Bottles Beverage Superstore (Charleston market)
$25,0001 to $100,000
Denver Art Museum (Denver market)
Visit Bend (Portland/Eugene market)
Goodwill Industries of Silicon Valley (San Francisco market)
$100,001 and over
Harnish Auto Family (Seattle market)
Accelerated Rehabilitation Centers (Chicago market)
Adventure Aquarium (Philadelphia market)
Comcast Spotlight's multi-screen advertising solutions combine the ability to deliver messages across approximately 50 demographically targeted television networks and on the award-winning XFINITY.com, the flagship online destination for millions of Comcast customers. Both TV and online advertising can be geographically targeted to reach specific neighborhoods or air across one or more full markets.
Full details of the inaugural Comcast Spotlight LAMP Awards are available at http://www.comcastspotlight.com/LAMP.
About Comcast Spotlight
Comcast Spotlight, the advertising sales division of Comcast Cable, helps put the power of cable to use for local, regional and national advertisers. It is focused on providing multi-platform marketing solutions to reach audiences most effectively and efficiently. Headquartered in New York with offices throughout the country, Comcast Spotlight has a presence in nearly 80 markets with approximately 35 million owned and represented subscribers. Comcast Spotlight is a trademark of Comcast Corporation. For more information, visit http://www.comcastspotlight.com.