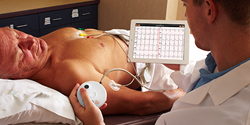 We applaud Spaulding and Medidata not only for bringing two novel technologies together, but also for putting 'skin in the game' by testing/validating the system on their expense in the clinic. - Dr. Andreas Koester
West Bend, WI (PRWEB) October 03, 2013
Medidata Solutions and Spaulding Clinical Research were honored with the title of Disruptive Innovator of the Year at the Dpharm Disruptive Innovations conference on September 20, 2013 for their collaboration on a novel study evaluating the impact of mobile and cloud-based technology on patient engagement for improved health outcomes in the diabetes community.
The 2nd Annual Quick Fire Disruptive Technology Presentations in an "American Idol /Shark Tank" format featured a number of innovators who were questioned and challenged by a panel of judges to determine how each technology was disruptive in advancing clinical development.
Randy Spaulding, Founder and CEO of Spaulding Clinical Research, gave a dynamic presentation alongside Glen de Vries, President of Medidata Solutions, to demonstrate how a study will integrate Spaulding's cloud-based webECG™ Management Solution, Withings' mHealth devices − which monitor physical activity and weight − and the Medidata Clinical Cloud™ to engage patients in their own care. Participants can relax while their data is captured at home using mHealth devices and made available to study coordinators through Spaulding and Medidata's cloud-based technology. In addition, study participants will receive immediate feedback through the mHealth devices, which are wirelessly linked to targeted messaging for unique patient engagement.
Determining the most disruptive winner was the DPharm judging panel:
Deirdre BeVard
VP, Development Operations, Endo Pharmaceuticals
Jeff Kasher, PhD
VP, Clinical Trial: Materials, Implementation and Transformation, Eli Lilly
Andreas Koester, MD, PhD
VP, Clinical Trial Innovation & External Alliances, Janssen, Pharmaceutical Companies of Johnson & Johnson
Craig Lipset, MBA
Head of Clinical Innovation, Research & Development, Pfizer Inc.
Todd Pietri, MBA
Partner, Milestone Venture Partners
Peter Richardson, BMedSci
Global Head Clinical & Regulatory Affairs, Alcon Laboratories
Komathi Stem
Senior Director, Product Development, Innovation Lead, Genentech
Daphne Zohar
Founder, Managing Partner, PureTech Ventures
Ms. BeVard gave everyone a chuckle at the end of the presentation by remarking, "At the risk of sounding like the Paula Abdul of the group, that was awesome."
After the winner was announced, Dr. Andreas Koester shared his rationale for picking this unique collaboration as the most disruptive presentation. "Innovation doesn't work without cooperation and is not without risk," he said. "We applaud Spaulding and Medidata not only for bringing two novel technologies together, but also for putting 'skin in the game' by testing/validating the system on their expense in the clinic."
Conference Director Valerie Bowling commented, "There were so many impressive presentations, so Spaulding and Medidata Solutions must be really pleased given the stiff competition."
The DPharm event is dedicated to disruptive thinking for the advancement of clinical development. Next year's show is scheduled for September 10-12, 2014 at the Fairmont Copley Plaza Hotel in Boston, Massachusetts. For more information, visit http://www.theconferenceforum.org.