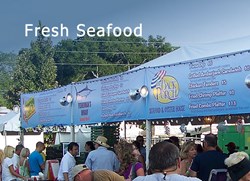 Destin, FL (PRWEB) October 03, 2013
The Emerald Coast expects thousands to attend the 35th Annual Seafood Festival. During October 4th-6th, fresh caught seafood and live entertainment will be enjoyed by many locals and visitors along the Destin Harbor. Along with great food, there will be arts and crafts, three kid zones, and fireworks. The three day festival has no admission charge but donations will be accepted on location.
South Walton will celebrate high fashion with Fashion Week in Grand Boulevard's Town Center on October 11th-13th. Aspiring designers and models will come together to benefit the Arts in Education Program of the Cultural Arts Alliance of Walton County. Festivities will include preview parties, trunk shows, and runway events with a panel of celebrity judges including Heather Roop, Cassie McConnell-Kelley, and Holly Williams.
For outdoor activities, the 30-A fall yard sale will be held at Gulf Place Town Loop Center on October 12th from 8am-1pm. There will be a "Back to Nature" hike in Grayton Beach, October 19th starting at 9am. Participants can join Ranger Patrick Hartsfield at the ranger station to hike the park and admire the wildlife and beauty of Grayton Beach State Park.
Seaside will host a "Halloweener Derby Day" on October 26th, a dachshund race with a crown going to the fastest dog. It will be followed by a pet costume contest, open to the public and friendly dogs. The fundraiser, an annual fall tradition in Seaside, begins at 9am and proceeds benefit the Kind Heart Kennel. For lodging, GRS Vacation Rentals provides rentals homes in the vicinity.
WaterColor will have a fall festival on October 27th. There will be a "Haunted Paddle" on Western Lake at 1pm in the spirit of Halloween. Families are invited to the Marina Park at 2pm for games, photos, and pumpkin carving. The festival will end with an outdoor showing of the movie"Hotel Transylvania". Visitors can bring chairs or blankets to enjoy the movie.