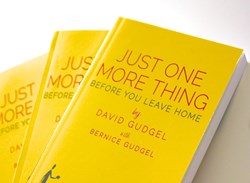 Have I successfully prepared my child for life on their own?
Sunnyvale, CA (PRWEB) October 02, 2013
It's a question that nags at every parent: "Have I successfully prepared my child for life on their own?" Just One More Thing is a practical guide to help teens transition out of their parents' home and into the rest of their lives.
When the Gudgels' oldest child reached his senior year of high school, they began to get a little frantic. "It started as an experiment," said David Gudgel about his book. "I wanted to make sure I had done my best to teach my son about the hard topics of life." So Author & Pastor David Gudgel wrote out a list of topics to discuss with his son over Saturday breakfasts throughout that year. Kind of a last minute effort to be a really good parent. According to his son it was a surprisingly great experience, so the Gudgels repeated the process with their other two children. Then others began asking for the lessons to use with their kids too. And the result was the book Just One More Thing: Before You Leave Home.
In the book, the Gudgels try to do the hard work for parents. They use stories, perspectives, and dialogues to discuss thirty indispensable topics to help teens survive and thrive in the world, including: worldview, financial challenges, use of time, career moves, moral dilemmas, sex, painful experiences, and spiritual life, among others. Written as Christian parenting help from a Biblical perspective, the book is more of a guide to making good decisions than a lecture on how to live. It's a perfect tool for adults wondering how to talk to a teenager, or even to give as a thoughtful gift for a graduate.
"This was just the thing I needed when my son was entering his senior year," said Patti, a mother of a high school senior, "I could get tips from the school on academics, but Just One More Thing gave me "permission" to talk to my son about critical life skills that needed to be covered."
"The format is perfect," said a customer on Amazon, "I would definitely recommend this book to parents and students as they embark on the next phase of life!"
This is more than Christian parenting tips. This is a Christian parenting tool. This is a way to talk to your teenager. This is a book our children will reference for years to come.
Dave Gudgel has been a pastor for the past thirty-three years. Along the way he has also been a radio Bible teacher/host, Walk Thru the Bible teacher, retreat speaker, and author. The Gudgels are committed to walking intentionally with God and helping others do the same. This book is part of a trilogy along with Before You Get Engaged and Before You Live Together. You can find out more about Dave & Bernice and their other books at http://www.davidandbernice.com.