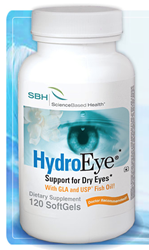 "HydroEye is among the safest, best tolerated, efficacious, and most cost-effective of all dry eye therapies," said Dr. Sheppard.
Houston, TX (PRWEB) October 02, 2013
New Study Findings: One of the Only Controlled Trials to Show Significant Impact on Dry Eye with a Nutritional Product
Study findings published in the October issue of Cornea show that daily dietary supplementation with a unique combination of omega fatty acids (GLA, EPA and DHA) for six months is effective in improving ocular irritation symptoms and halting the progression of inflammation that characterizes moderate to severe dry eye.
The multi-center, double-blind, randomized, placebo-controlled clinical trial evaluated 38 post-menopausal women with tear dysfunction in both eyes. HydroEye® (ScienceBased Health®) was found to improve ocular irritation symptoms, suppress ocular surface inflammation, and maintain corneal surface smoothness. An irregular corneal surface contributes to both irritation and problematic visual symptoms.
More than half of peri and post-menopausal women are estimated to suffer from dry eye. The impact of dry eye on quality of life can be significant, and was rated as equivalent to that of heart disease (unstable angina) in one study.
The trial was conducted at Baylor College of Medicine and Virginia Eye Consultants by dry eye researchers John D. Sheppard, MD, MMSc, President, Virginia Eye Consultants, Professor of Ophthalmology, Clinical Director of the Lee Laboratory for Ocular Pharmacology at Eastern Virginia Medical School, and co-principal investigator who initiated this research project, and Stephen C. Pflugfelder, MD, Professor of Ophthalmology, James and Margaret Elkins chair, Director of The Ocular Surface Center, Baylor College of Medicine-Cullen Eye Institute and co-principal investigator of the trial.
"Within three months, the group treated with HydroEye showed statistically significant improvements in irritation symptoms of dry eye, and no progression of ocular surface inflammation or corneal irregularity. The placebo group's dry eye symptoms actually worsened over the six-month testing period," said Pflugfelder. "HydroEye clearly had a positive impact on these patients with moderate to severe dry eye."
While there are other dry eye treatment options available, most have unpleasant side effects, provide only transient relief, or have high costs, and/or compliance issues. "Given these parameters, HydroEye is among the safest, best tolerated, efficacious, and most cost-effective of all dry eye therapies," said Dr. Sheppard. "I recommend HydroEye to all of my dry eye patients."
For more information about HydroEye and this clinical trial, contact SBH at (888) 433-4726 or visit: http://www.SBH.com/HydroEyeTrial.
About HydroEye® - Dry Eye
HydroEye is a patented nutritional formulation that works from the inside out to provide continuous dry eye relief. HydroEye delivers a proprietary blend of omega fatty acids: gamma linolenic acid (GLA) from black currant seed oil, and eicosapentaenoic acid (EPA) and docosahexaenoic acid (DHA) from USP-verified fish oil, antioxidants and other key nutrients that work together to support a healthy tear film and dampen inflammation. Much more potent than flaxseed oil or fish oil alone, HydroEye provides the unique omega fatty acid, GLA, which has been found to play a key role in dampening dry eye symptoms in six other clinical studies. GLA is not found in flaxseed or fish oil, and is not present at meaningful levels in the diet. HydroEye is widely recommended by ophthalmologists, optometrists and leading eye care centers nationwide.
About ScienceBased Health® - Nutritional Healthcare
ScienceBased Health®, a privately held company founded in 1997, develops and markets evidence-based nutraceuticals for eye health. Featured formulations include: HydroEye®, a patented oral formulation for dry eyes; OcularProtect®, a robust multi-nutrient for eye and body health; MacularProtect Complete®-S, an AREDS2-based formula to preserve macular and whole body health; Optic Nerve Formula®, a powerful formulation to protect optic nerve health; and other high quality products. The formulations are based on the latest science, made from premium ingredients and manufactured to the highest quality standards in NSF®-certified facilities.