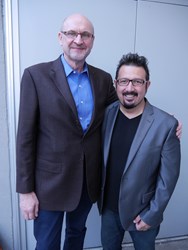 (PRWEB) October 03, 2013
Long Islander Chris Pati, known locally as a musical genius since the age of 5, has created a way to bring global awareness to new music which is fast becoming the worldwide hub of independent and unsigned music and musicians. Pati's year-old IndiMusicTV website has brought global attention and now the success of this site has garnered the attention of Roku. Beginning in early October, IndiMusicTV will launch a worldwide free channel on Roku, alongside their indiMusic TV premium subscription-based channel. Roku is a little box that makes music, games, TV shows and films available through streaming directly from the internet to a television set, effectively making any TV a smart TV. Pati shared, "Roku launched the first device to stream Netflix to the TV in 2008; it's an exciting day for myself and my partner, Bill Zeh, to be featured among the offerings of the top streaming platform." Chris Pati, founder of IndiMusicTV, and partner Bill Zeh will simultaneously be launched a fresh new face to their already successful website with enhanced features and functionality.
Since IndiMusic TV launched in September of 2012, the music channel has gained immense worldwide popularity. It is no surprise that this online music channel (featuring a 24/7 live stream, music videos and a host of promotional tools) is becoming the go-to site for independent and unsigned artists to broadcast and promote their music, and for new fans to find that music.
Pati, who started at the age of 5 playing piano, guitar, bass and drums, established himself as a multi-instrumental prodigy by age eight. Chris wrote his first piano piece at age seven and was playing Grade 6 N.Y.S.S.M.A and piano music by the likes of Liszt, Chopin and Rachmaninoff by age 9. Chris was playing professionally by the age of 13 and subbed for famed session drummer Steve Gadd at age 16 back in 1978. Chris then went on to form a recording studio in Huntington, NY called Backdoor Recording in 1980 where he virtually invented the "For Hire" Project Studio, which is now the "defacto standard" for commercially recorded music with the advent of sampling, sequencing and Pro Tools and the demise of many high-priced larger recording studios. Chris was playing all the instruments, producing, engineering and mastering as a package deal long before sequencing and sampling existed because he could really play all the instruments. This garnered Chris quite a reputation on Long Island and in NY as the only "one stop shop" production facility. Chris worked on many major label projects there over the years with the highlight being a Rebbie Jackson (of the Jackson's family fame) album entitled "R U Tuff Enuff" which reached #8 on The Black Singles chart in Billboard 1988.This is quite impressive in itself, but Chris then went on to become even more well-known for his blazing ability on guitar when after many years of producing records, he released his first Blues album, "Blufire" through his own label Modern Voices Records in 1996. 'Blufire' was a product of an intensive two-week studio stint where Chris virtually locked himself in the studio, writing, performing and producing everything by himself. When he emerged, the result was a cathartic debut that established Chris immediately as one of the top modern blues-rock greats. 'Black Chair,' the follow up to 'Blufire,' was the album that launched Chris onto the National scene, with a successful radio campaign and support dates that culminated with a Top 15 position on the Billboard Blues Charts and made Chris music a staple in the genre. Modern Voices Records was the #8 Independent Dance Maxi-Single Label named by Billboard Magazine 1997 with over a dozen Billboard charted hits, a half dozen top 10 and two #2 singles.
Chris has always been a visionary in the business and sensing the demise of The Big Corporate Music Business, he established a new music business model, Guru Project (http://www.guruproject.com). Guru Project offered all of the services that a major label would offer: production, promotion, marketing, distribution as ala carte scalable services with the artist maintaining control and ownership of their intellectual property and career while cherry picking the services they need at a price they can control. In his spare time, Chris guest conducts various National symphony orchestras such as The Louisville Orchestra and the Toledo Symphony. He has also arranged all the Herman's Hermits hits for symphony and acts as Peter Noone's Musical Director for all of his symphonic shows.
Chris also has an extensive background in radio, film and video. Chris' first jingle was nominated for a Clio in 1986 at the age of 23. He has worked on such major film releases as "Simple Justice" 1986 film (Vestron Pictures) starring Cesaer Romero and Dorris Roberts and has had music he produced in "Look Who's Talking too" Starring John Travolta and Meatballs 4. He has directed and produced in Hollywood at Panavision, executive producing a music video for Michael Damian (star of the classic soap "Young And The Restless") for 18 years and the Broadway hit,"Joseph and The Amazing Technicolor Dreamcoat" and also had a hit "Rock On", which went to #1 in Billboard in 1990. Chris has directed and produced many music videos and national TV commercials as well as documentary work. He recently was asked to perform on the soundtrack for the movie "44 Inch Chest" starring Ian McShane, Tom Wilkinson and scored by Angelo Baldalamenti (Twin Peaks, Blue Velvet, Wild At Heart, The Actor's Studio).
He also arranged and performed an the request of Mr. Berry Gordy (Motown Founder) a piece for the opera singer N'kenge for The Commander In Chief's Ball at the Presidential Inauguration 2009.
In September 2012, Chris launched "IndiMusic TV," a 24-7 independent only worldwide music video TV channel and musician social network. Being the first musician social network and TV channel of its kind in the world, IndiMusic TV has already garnered 700,000+ subscribers in over 260 countries worldwide, has 8000+ visits a day and is #1 on Google search for Indie music television.
Bill Zeh served as Vice President Logistics Group at EMI Music Plc. in London, England, where in addition to managing daily operations, with aggressive performance targets in 49 countries, he led the creation and deployment of the company's supply chain strategy.
Like Zeh, Chris Pati also has a history on the business side of the music world with an extensive background in radio, film and video. His strong entrepreneurial mentality led him to create successful entities such as Guru Project and Modern Voices Distribution, as an alternative to the Major Record Label distribution system.
Bill Zeh and Chris Pati's passion for the music industry is what will continue to drive IndiMusic TV to success. Already, IndiMusic TV has become the #1 searched site for Indie Music Video Channel on Google.
With the release of their ROKU channel and newly renovated website to provide IndiMusic TV viewers with 24/7 music how they want it, when they want it- there is no doubt that IndiMusic TV will continue to garner an even greater worldwide presence and market share.