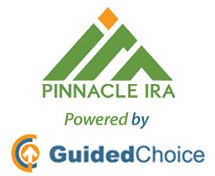 With Pinnacle IRA, investors know they are getting completely unbiased advice with absolutely no conflicts.
Pittsburgh, PA (PRWEB) October 01, 2013
In a recent interview with FiduciaryNews.com, Assistant Secretary of Labor of the Employee Benefits Security Administration (EBSA) Phyllis Borzi had some interesting things to say about the evolution of plan service providers and how it relates to the definition of Fiduciary.
"In 1975, the people making decisions about pension plan investments were generally asset management professionals who had the training to evaluate different options and make informed decisions," Borzi told FiduciaryNews.com's Chris Carosa. "That's not the case today. Today, in effect, individual investors must be their own investment professionals."
She also touched on the differences between Fiduciary and Non-Fiduciary advisors, the lack of knowledge among Plan Sponsors about the differences between the two, and the reliance of participants on advice that is often biased.
"That means investors are increasingly reliant on the advice they receive, and while an investor may assume his advisors are putting his interests first, we know that's not always the case," Borzi said.
Inspira had that in mind when it teamed up with GuidedChoice to create Pinnacle IRA, the retirement industry's leading IRA product with built-in advice available to any size account. Pinnacle IRA brings world-class investment advice to the masses at a fraction of traditional costs.
"With Pinnacle IRA, investors know they are getting completely unbiased advice with absolutely no conflicts," said Lowell Smith Jr., President of Inspira. "We have no investment affiliations, and GuidedChoice tailors investment selections based on the individual."
Pinnacle IRA uses the same professional advice GuidedChoice has been providing to millions of 401(k) participants for more than a decade at a cost of 8.2 basis points. Other professional advice providers charge up to 35 bps.
Borzi later added this: "Assuming that all things are equal, I think the average person would prefer to work with people who are legally required to provide unbiased investment advice and put the client's interests first."
According to Smith, this same philosophy should also exist in the IRA marketplace.
"People want investment advice, but it's often too expensive or not trust worthy or the account is too small for advisors to manage," he said. "With Pinnacle IRA, we've created what we feel is the future of individual retirement savings: a managed account available to all individuals, regardless of account size."