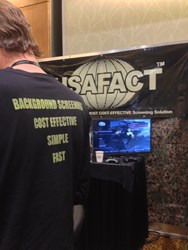 We pride ourselves in preventing pre-employment lawsuits and promoting workplace safety. - Matt Davidson.
Golden, CO (PRWEB) October 02, 2013
According to company profiles and background screening industry reports, at least five percent of workers nationwide are using fake or incorrect identification information. USAFact, a leading nationwide provider of pre-employment background screening services for more than 35 years, made this important announcement at the recent Colorado Technology Association (CTA) conference.
"If you are a business owner, this number should keep you up at night," said USAFact Chief Executive Officer Matthew Davidson. "It is astonishing how many businesses don't use pre-employment background screening or are out of legal compliance in their current practice when hiring a new employee."
USAFact assists companies in mitigating the risk of safety and security breaches, as well as stolen intellectual property, by making sure employees and contractors undergo proper employment screening. This in turn mitigates the pre-employment issue at one of the most basic levels - making sure the individual is meeting company standards for just working at the company.
"Using a pre-employment background screening system drastically reduces your risk of Negligent Hiring or Negligent Retention Lawsuits," said Joel Doherty, USAFact Director of Sales. "Some businesses may be trying to cut some costs, but both the short and long term risks companies expose themselves to when not properly using pre-employment screening are now becoming regular occurrences in mainstream news reports."
"We pride ourselves in preventing pre-employment lawsuits and promoting workplace safety," Davidson added. "We assist in heading off serious issues before they even happen."
More than 900 technology firms from across Colorado were invited to the event. These businesses are truly on the cutting edge of shattering the status quo and redefining how the entire state of Colorado approaches personal, social and business lives.
The conference started with the launch and innovation stages, consisting of a full day of TED-style talks and trending product demonstrations. Some of the speakers included the Chief Technology Officer Jason Carolan at ViaWest and Jeff Kraft, with the State of Colorado Office of Economic Development.
More than 80 players participated in the USAFact Video Game battle. The first place winner was Beth Rorick, VP of Diversity Markets at Pivot, who took home the coveted 1st Place Trophy and a brand new Xbox. Second place went to Ben Sloboda Sr. GIS Developer of RTD, while Brandon Miller, Owner of 5280Design took home the third place medal.
More information about the Colorado Technology Association and their APEX conference is available online at Facebook.
About USAFact, Inc.
Successfully operating in the background investigation field for over 35 years, USAFact has been recognized as the hiring solution provider which delivers the most accurate, up to date, and thorough background screens in the industry. As a leading online pre-employment screening service, USAFact combines the latest Internet technologies with the expertise of an experienced professional staff to deliver a proven resource to thousands of clients, processing thousands of reports daily. Offering a variety of screening packages for businesses of any size, from the small non-profit to Fortune 500, USAFact provides services custom-tailored to their individual needs.
For additional information on USAFact's products and services, please visit http://www.usafact.com, or call (800) 547-0263.