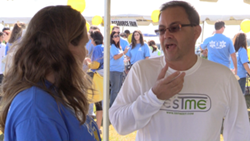 There is a direct correlation between the amount of free radicals formed due to oxidation and the amount of stress the body sees in many different forms.
Jeresey City, NJ (PRWEB) November 14, 2013
Fluitec Consumer Products LLC, a subsidiary of Jersey City, NJ-based Fluitec International LLC, received rave reviews for its revolutionary new TestME™ Kit after a preliminary unveiling at a recent fundraiser for Autism Speaks© on the Jersey Shore.
TestME™ a fast, reliable and easy to use in-home, non-invasive test that measures the level of Free Radical induced Oxidative Stress in the body, will be available online at http://www.testmekit.com starting today.
"There is a direct correlation between the amount of free radicals formed due to oxidation and the amount of stress the body sees in many different forms," said Fluitec CEO Frank Magnotti.
"Autistic children are under stress all the time, and what we want to do is allow parents to measure the levels of free radicals in order to lower the levels and make them as stress free as possible."
Janice McGreevy, chairman of the Autism Speaks Walk in Long Branch, NJ, whose twelve-year-old son is in the autism spectrum, said she was excited about what the development of the TestME™ Kit means for caregivers.
"Parents need to know what's going on," she said. "They need proof in some ways. There are so many different therapies and organizations trying to take your money while you are trying to make your child better, and it's very difficult as a parent to gauge what type of therapy is going to work. This kit is a tremendous idea."
The TestME™ Kit is based on the concentration of Malondialdehyde (MDA) as a proven, valid biomarker to indicate Oxidative Stress. TestME™ i determines the amount of MDA and other aldehydes in urine. Results are expressed in the test sample's color.
Magnotti said, "You can spend hundreds of dollars and not know whether or not what you are doing is working. We based this test on medical research, and we've made it easy and affordable for parents to keep testing free radicals on a regular basis and help keep their child's stress levels down."
About Fluitec Consumer Products
Fluitec Consumer products was formed with the charter to identify, analyze and pursue viable commercial opportunities in markets not historically engaged by Fluitec capitalizing on Fluitec's wealth of experience, depth of knowledge and unparalleled reputation for providing the highest level of service and quality products.
About Fluitec International
Fluitec, based in Jersey City, New Jersey is a privately-held company. It provides customers in over 50 countries leading edge technologies and knowledge to realize optimum reliability and sustainability of their lubricating assets. In 2010, Fluitec received an award for the "Most Promising Innovation" from Cleantech in New York City. Fluitec has developed several technologies to decrease operation and maintenance costs of rotating equipment. Fluitec Wind's Analytics platform uses big-data technologies to slash O&M costs for wind turbines.
Fluitec examines the cause-effect relationship between stresses on a machine or body and the fluid contained within. Our core competency is the understanding of oxidative stress and the monitoring of antioxidants. Our mission is to be the world leader in data collection, analysis, and mitigation of these stresses. Fluitec values truth, knowledge, long-life, wellness, high performance and individuality in its employees, products and services and delivers these values to our customers.
Fluitec is made up of a team of internationally recognized experts with a track record for delivering innovative solutions. Our expertise centers around increasing the reliability and profitability of manufacturing plants, rotating equipment and transportation industries. We accomplish this by combining our deep knowledge of contamination control and condition monitoring sciences with smart data analytics technologies.
Fluitec's clean technology solutions also deliver environmental benefits to our customers. Most sustainability initiatives require sizeable investments or government support to make them financially justifiable. Fluitec provides high level, rapid return investments that allow our customers to merge economics with sustainability.