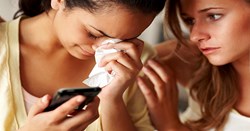 We are thrilled about the vast array of experts in the field willing to share their knowledge and experience with us to combat bullying.
London, UK (PRWEB) October 04, 2013
Alex Fribourg, a licensed mental health counselor/psychotherapist, talks to NoBullying.com today about treating the bullying victim.
Alex Fribourg is a licensed mental health counselor/psychotherapist, working in Manhattan. Alex works with clients in a relaxed, informal environment using a collaborative, strengths-based approach, and tailors her methods to the unique needs of each individual. She is committed to providing a safe, supportive, nonjudgmental space for clients to explore their issues, work to overcome obstacles, and start feeling better. Alex specializes in working with adults & young adults, managing issues with relationships, stress, self-esteem, anxiety and depression and with issues surrounding addictions and mental illness.
When it comes to bullying, she comments "I don't know that it is a much "bigger issue" but it is certainly much more known. The term bullying has now been defined for everyone to understand, and has been shown to be much more than a series of simple childhood conflicts like it was once thought to be."
As for Cyber Bullying, she says, "Everyone has a cell phone these days, and those phones have cameras. It's possible to capture an embarrassing moment, or an act of bullying on those cameras and then post them on the internet, on social media sites for everyone to see. It makes bullying both more pervasive in the sense that many bullies can have access to a vulnerable individual, and also more safe and potentially anonymous for the bullies."
Macartan Mulligan, Co-Founder of Treze, said, "We are thrilled about the vast array of experts in the field willing to share their knowledge and experience with us to combat bullying." He added, "This Movement against Bullying needs to gain more momentum and that only happens with sharing knowledge and experience and truly empowering children to stand up for their safety online and everywhere."
Mulligan encourages experts from all over the world to join the Movement against Bullying by contributing to NoBullying.com via media(at)nobullying(dot)com.
He added that parents and teachers should make a point to educate the younger generations about the sad outcome of bullying online and off line.
NoBullying.com features many pages dedicated to parents, teens, teachers, health professionals as well as posts related to cyber safety and the latest news about law making concerning curbing Bullying worldwide as well as inspirational Bullying Poems and Bullying Quotes.
The website makes a habit of updating its bullying statistics and cyber bullying statistics regularly because it is essential to understand how widespread the bullying epidemic is.
He also added that anyone suffering from bullying in any form or way can always reach out to the team of NoBullying and they will be given advice on how to stand up to bullying or protect themselves online.
The founders of the website hope that viewers can truly learn about bullying definition as well as school bullying and workplace bullying and put a serious effort to making it stop by education and caution and not by violence. NoBullying.com is not a mere website but an actual movement against bullying.