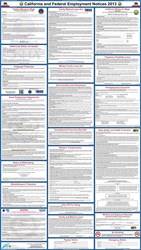 New legislation effective earlier of this year has increased benefits for worker's compensation employees in California.
Brea, CA (PRWEB) October 02, 2013
State and Federal Poster, Inc. is committed to keeping businesses up to date on the latest policy changes in California. Don't be without the latest version of the California State and Federal Law Posters. Worker's compensation benefits have dramatically changed as of early this year. The IRS has implemented rate increases for worker's who were injured at work and now have to travel to receive proper medical care. The new rate for mileage compensation is now $.565 per mile. In addition, to an increase in travel compensation, death benefits have also increased. Burial expense compensation has been increased to $10,000 and payments to a spouse or dependents was also raised.
State and Federal Poster, Inc. is committed to providing it's customers with the most accurate revisions of California state law and federal laws the moment they become effective. Don't let the HR department fall behind on important mandatory updates. Get the latest version of complete state and federal posters today!