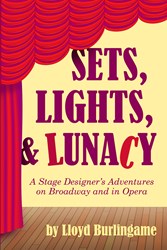 New York, NY (PRWEB) October 03, 2013
Renowned designer Lloyd Burlingame pulls back the curtain to reveal the triumphs, trials, tribulations, and travesties of a stage designer in his upcoming memoir, Sets, Lights, and Lunacy: A Stage Designer's Adventures on Broadway and in Opera. Sets, Lights, and Lunacy (Design Adventures, ISBN: 9781489587527, Full color illustrations) will be available wherever fine books are sold on October 15, 2013. Sets, Lights, and Lunacy will also be available in an eBook edition.
The recipient of the prestigious Robert L.B. Tobin Award for sustained excellence in theatrical design, Lloyd Burlingame served as designer for over 40 Broadway shows and worked extensively off Broadway, in opera and regional theatre, and served as head of the Department of Design for New York University's Tisch School of the Arts from 1971 until 1997. Sets, Lights, and Lunacy is his story. And just like Burlingame himself—a designer with the rare ability to design scenery, lighting and costumes—Sets, Lights, and Lunacy is no ordinary tale.
A splendid and sensational memoir, Sets, Lights, and Lunacy chronicles the bright sunset of The Great White Way. Focusing primarily on the Sixties and Seventies, Sets, Lights, and Lunacy delivers a unique perspective on the history of the theatre.
Sets, Lights, and Lunacy, however, is both historical and hysterical: with his clever wit, keen observations, self-deprecating humor, and gift for telling stories, Burlingame leads readers on a wild, witty, and wonderful romp behind the scenes of show business.
Come along for the ride with Lloyd Burlingame during the heyday of prolific producer David Merrick. Get an up-close-and-personal view of the spectacular ups and downs, highlights, hilarities, and epiphanies of a storied theatre career—including collaborations with such well-known directors as Franco Zeffirelli, George Abbott, Peter Brook, George Roy Hill, and Peter Hall. Fasten your seatbelts as Burlingame transitions to the realm of opera and is afforded the opportunity to design new productions for such divas as Beverly Sills, Martina Arroya, Joan Sutherland, and Leontyne Price.
From a grand lesson in form versus function with regards to the proper use of macaroni, to a dire warning from the revered costume designer Miss Irene Sharaff, to a special production calling for knowledge of African versus Asian elephants, Sets, Lights, and Lunacy has it all. Much more than a memoir, Sets, Lights, and Lunacy is Lloyd Burlingame's love letter to the stage —and as Stuart Vaughan so eloquently stated in the book's introduction, "behind the keen humor and sharp observation lie [Burlingame's] prescriptions for preserving sanity and joy throughout a life in the theatre. See his designs and read his stories for fun—and for how to keep your head when all about you are losing theirs." For theatre enthusiasts, professionals, educators and students, this lively and richly informative book serves as a link in the long chain of theatre history.
A native of Washington, D.C., Lloyd Burlingame has lived in Manhattan for over fifty years. He is also the author of Two Seeing Eye Dogs Take Manhattan. Members of the news media wishing to request additional information about Sets, Lights, and Lunacy or Lloyd Burlingame, are kindly asked to contact Maryglenn McCombs by phone: (615) 297-9875