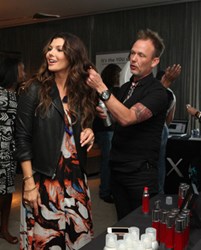 Fort Lauderdale, FL (PRWEB) October 03, 2013
Tibolli and GKhair received raving red carpet reviews at the Pre-Emmy Style Lounge held at the Andez Hotel on Sunset Blvd in Hollywood September 19th and 20th. A star-studded list of guests gathered gifts of all varieties, and celeb ladies and gents had their hair poised and primped by Jeff Duckwall (lead stylist and educator for GKhair and Tibolli brands). Tibolli was gifting stars their award winning Hair Oil and GKhair was offering their power product, Dry Shampoo… perfect for that voluptuous volume and a must have for a prepped appearance at the Emmy's. Jane Lynch (Glee), Cody Simpson (Musician), Matt LeBlanc (Friends), Cheryl Burke (Dancing with the Stars), Karina Smirnoff (Dancing with the Stars), Laura Prepon (Orange is the New Black and That 70's Show), Ali Landry (Former Miss USA), Michelle Williams (Destiny's Child), Nicole Murphy (Hollywood Exes), Riley Smith (90210), LaMonica Garrett (Transformers), Jonathan Bennett (Mean Girls), Jacque Pyles (Musician), Dominic Monaghan (Lord of the Rings and Lost), Lana Parilla (Once Upon A Time), Teyonnah Paris (Emmy nominated/ Mad Men), Daniella Bobadilla (Anger Management), AJ Buckley (CSI:NY) and countless other talent appeared at the exclusive lounge. GKhair's Dry Shampoo delivers body and on the go cleansing while Tibolli's Hair Oil presents silky and smooth shine creating a flawless finish… the perfect pair for the Emmy's glamorous gala.
VTB
Van Tibolli Beauty (VTB) is an international developer of award winning professional hair care products like GKhair and Tibolli, distributed in over 55 countries worldwide. VTB represents a powerhouse of unique, smart and first-in class beauty solutions, providing all women the opportunity to feel beautiful. At VTB, we are committed to providing quality through our products. We believe investing in extensive research and development to ensure innovative formulas that are rigorously tested to produce unparalleled results. Our promise to you is to always create outstanding solutions for every woman's individual beauty needs.
"It's all about beautiful hair." GKhair is the leader in industry haircare education and innovative artistry. For additional information, please visit http://www.gkhair.com.
"Be different, be you!" Tibolli creates effortlessly sexy and sophisticated looks with lasting results, hair with an edge. For additional information, please visit http://www.tibolli.com.