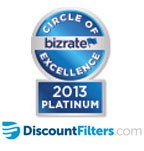 There's no way we would settle for anything less. Excellent quality of service is something we'll never compromise.
Greenwood, IN (PRWEB) October 03, 2013
Even though they're not receiving a posh red carpet ceremony for all their hard work, an Indiana business is pleased to announce they were nationally recognized for their customer service. DiscountFilters.com, a leading online retailer of air and water filters, received the 2013 Bizrate® Circle of Excellence Platinum Award Tuesday, Sept. 24, for the second year in a row. This annual award recognizes online retailers who have provided customers with outstanding online experiences throughout the previous year.
More than 6,000 online retailers in North America were considered for the award. The retailers were graded based on client feedback covering seven key satisfaction categories. The results are based on more than 20 million surveys collected annually. To gain the highest rating – platinum – online vendors must have received a score of at least 9.0 or above in all seven key satisfaction categories. Only 66 retailers in the nation earned a platinum-level badge.
The award was created by Bizrate® Insights, which is the largest source of verified customer-generated seller ratings and reviews that helps online retailers and consumers make informed decisions. DiscountFilters.com is joining well-known retailers such as Zappos.com, Bose, Bath & Body Works and Crutchfield in this year's Platinum Circle of Excellence.
"We've always made our customers' needs a priority," said Tyler Dishman, DiscountFilters.com president. "It's quite rewarding to know our efforts to provide the best online shopping experience are paying off. Only 1.3 percent of the retailers surveyed earned this year's platinum award, which is phenomenal for us. I am exceedingly proud of what we've managed to achieve in such a short amount of time."
"Some of the ways DiscountFilters.com has managed to set themselves apart from their competition is by providing free shipping, low prices, auto fulfillment, guaranteed free returns, in-house customer service, and a large inventory. All of these things are done in an effort to provide customers with a cleaner, healthier lifestyle," said Dishman.
He also said he plans on making sure DiscountFilters.com continues to strive for remaining platinum. "There's no way we would settle for anything less," he explained. "Excellent quality of service is something we'll never compromise."
DiscountFilters.com has been providing their customers with cleaner, healthier lifestyles since 2010. They know buying replacement air, furnace and water filters for a home or business can be a challenge. So, it's no wonder DiscountFilters's customer service staff is known for their product knowledge, friendliness and reliability. Best of all, they keep their prices small with fast, free shipping and returns on all their products.