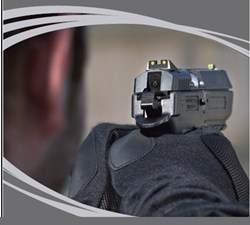 I can assure all our customers that Meprolight remains totally committed to serving the needs of all of our customers, as we transition USA distribution from Kimber USA to The Mako Group.
Farmingdale, NY (PRWEB) October 02, 2013
In a joint announcement made simultaneously in the USA and Israel, the USA shooting market learned of a change in the national distribution of the Meprolight line of Self-illuminated gun sights. After a decade of distribution by Kimber USA, Meprolight Self-illuminated sights will be distributed in the USA exclusively by The Mako Group, beginning November 1, 2013.
Making the announcement from Meprolight headquarters in Israel, Benny Kokia, Vice President of Sales and Marketing, praised Kimber USA for its decade of service, saying "Kimber has been instrumental in making Meprolight Self-illuminated 'Night Sights' a leader in the USA market. We are grateful for our long association, throughout which Kimber performed with the highest levels of skill, professionalism and dedication.
I can assure all our customers that Meprolight remains totally committed to serving the needs of all of our customers, as we transition USA distribution from Kimber USA to The Mako Group."
The Mako Group, a leading distributor of unique weapon accessories, has been distributing Meprolight Optical and Electro Optical sights in the USA since 2011.
Shay Granov, The Mako Group's Vice President of Business Development, said "We are very pleased to be named the exclusive USA distributor of all Meprolight Optical and Self-illuminated sights. We have broad experience with Meprolight Optical and Electro Optical sights and a wide range of other weapon accessories for rifles, pistols and shotguns. This, combined with our extensive dealer network and reputation for providing the highest level of service and personalized attention, assures that the transition of Meprolight's Self-illuminating Night Sights to new distribution management will serve the industry well.
About Meprolight
Meprolight develops, manufactures, and markets aiming and sighting systems and devices for military, homeland security, law enforcement, and civilian applications. These products include Electro Optic sights, Un-Cooled Thermal sights and devices, Night Vision devices, Fire Control Systems, Laser Rangefinders, Handheld Rangefinders, and Night Sights (Tritium).
Meprolight products are developed in extraordinarily close consultation with operational military and security forces. The majority of its products have been proven in battle by numerous militaries and security agencies throughout the world.
All of Meprolight's products undergo meticulous quality assurance according to international standards. The products are fully certified to ISO-9001:2008, and comply with NATO and US military specifications and International MIL Standards. State-of-the-art technology combined with high reliability and simplicity of use, have made Meprolight the vendor of choice among military forces, law enforcement agencies, defense agencies and weapon manufacturers.
About The Mako Group
In addition to its line of Meprolight sights, The Mako Group also offers FAB DEFENSE accessories for tactical weapons, E-LANDER magazines for rifles and pistols, and an extensive selection of FRONT LINE holsters for tactical, on-duty and private carry. In all, Mako is now the exclusive USA distributor for over 3,000 top-quality weapon-related products.
Because these products have been specifically requested and used by the Israel Defense Force (IDF), Israeli Police, and Security Agencies, they have seen extensive real-world combat with some of the most elite forces in the world. Few distributors can make this claim about their products. These are true combat-proven weapon accessories.
The Mako Group is managed by former military, Secret Service and Special Forces operatives that have tested, used, and relied on such equipment to preserve their lives and the lives of others.
The Mako Group has a liberal Test and Evaluation (T&E) program in place, with policies that make it simple for publishers, editors and writers to obtain equipment for stories and articles.
The Mako Group is a Registered Contractor to the US Department of Defense.
Dealers that have immediate questions pertaining to Meprolight Self-illuminating sights are invited to call Mako directly at 631 880-3396.
For more information, contact The Mako Group, 170-20 Central Avenue, Farmingdale, NY 11735, 631-880-3396, info(at)themakogroup(dot)com or visit http://www.themakogroup.com.