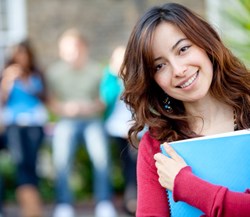 This year's contest features $15,000 in available awards.
Chicago, IL (PRWEB) October 02, 2013
WyzAnt.com, an education website featuring the nation's largest tutor marketplace with over 75,000 private tutors, today announced the fourth annual WyzAnt College Scholarship essay contest. This year's contest features $15,000 in available awards and encourages applicants to solicit votes for their essays. Responding to the prompt, "If you could teach everybody in the world one thing, what would it be?", applicants will be asked to write a short essay and advance to the finals based on popular vote. Applications must be submitted by May 1, 2014 and winners will be announced in June.
Over the past three years, WyzAnt has awarded $31,000 in college scholarships to nine deserving students whose peers helped them advance past the first round of WyzAnt's voting process. During the first round of voting, applicants are encouraged to creatively leverage social media sharing capabilities to promote their essays. The top 20 popular vote recipients advance to a final round of voting where WyzAnt's network of 75,000+ tutors choose three winners.
"It's a unique format for a scholarship contest," says WyzAnt's Director of Marketing, Daniel Breiner. "Students are required to display creativity first in composing a brief, compelling essay and again when they share their essays with the public. As a result, a wide array of people are invited to read essays and share the experiences of some very interesting and talented students."
About this Company:
WyzAnt Tutoring is the nation's premier marketplace for tutors and students, offering a user friendly, secure environment designed to foster learning though one-on-one instruction. WyzAnt maintains an "A" rating with the Better Business Bureau and allows students to begin lessons with the security of a 100% good fit guarantee. To learn more and to hear what WyzAnt customers have to say, visit the WyzAnt Facebook page.