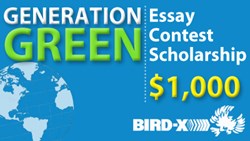 Chicago, IL (PRWEB) October 02, 2013
Nearly 1,000 college students applied for Bird-X's "Generation Green" scholarship essay competition, far more than originally expected! Due to the tremendous interest and participation, Bird-X decided to expand the amount of prize money originally planned in order to reward more of the outstanding submittals, another indication of Bird-X's commitment to responsible environmental solutions, and has posted each winning essay on their website with the goal to inspire others.
With the open-ended topic, "Write a short essay about your green initiatives (500 words or less). What are you doing to live greener? To reduce your carbon footprint? To minimize your individual and/or community waste and consumption?" Essays were reviewed by a panel of 4 judges, who rated each piece for originality/creativity, environmental impact, power to engage the reader, writing style, and overall quality.
In the end, Bird-X chose a dog named Tavel as its grand prize winner, being an animal-loving pest control company. Her owner Lindsey Oberhelman, who creatively wrote her essay from her dog's perspective, got the $1,000 scholarship prize. Lindsey and Tavel's essay stuck out in the judges' minds because it hit all 5 points so effectively: its ability to engage and excite the reader with attainable, day-to-day tasks such as recycling and composting made its message effective, and its creativity and humor made it exceptional.
However, many other essays also stood out strongly, especially two that earned the Bonus Prize awards of $200 each. Kapil Kanagal talks about taking a stand against BPA in plastics through an organization which met with councilmen and state senators, and emphasizes the importance of wider-scale change. Jennifer Levengood, the other $200 winner, organized her community in creating thousands of quilts for the homeless out of discarded plastic grocery bags. Both of these essays were further illustrated by photos, and show the positive change one individual can accomplish.
Bird-X couldn't stop there though… the quality of the leading entries was so high that the judges felt the best runners-up should also receive publicity and recognition for their work. Thus Bird-X has awarded 6 runner-up prizes of $50 each, going to Jacquelyn Costello who started a grass-roots community recycling program, Justin Hayes who turned his love of skateboarding into a farming initiative, Qiannan Miao who was inspired to recycle after moving to the U.S. from the pollution of industrial China. Raymundo Francisco Mejia Marqueda was inspired with the help of his environmental activist mother and a move from Mexico to California, Iris Natalie Mollohoff worked to create a school garden at her local elementary school, and Noah Schlottman inspired us with a compelling, relatable piece describing his inspiring, 'green' daily routine.
Bird-X congratulates these 9 winners, and sincerely thanks all of the contestants who took the time to write and move us with their work. Bird-X plans to feature several more inspiring essays in the next few weeks, in hopes that doing so will give more students a voice, motivate readers, and show that a new wave of environmental conservation is sweeping the world.
Bird-X, Inc. was established in 1964 and continues to be the leading brand in humane pest control solutions worldwide, protecting human health, wildlife and the environment in which we all live. Bird-X manufactures a complete line of unique pest control products with an unmatched focus on quality, efficacy and customer service.