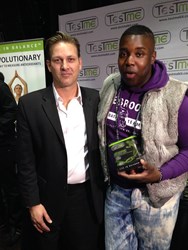 It's so simple and yet it's really what we need...the fact that you can take a two minute test and see if it's actually working is great.
Jersey City, NJ (PRWEB) November 26, 2013
Fluitec Consumer Products, LLC launched its proprietary TestME™ kit, a revolutionary new product for measuring the level of free radicals in the human body, to rave reviews at a celebrity event held in conjunction with the American Music Awards this weekend in Los Angeles.
Nia Peebles, R & B singer, dancer and actress, best known for her starring role on Fame, gushed, "It's so simple and yet it's really what we need, because I am constantly looking at nutrition, exercise and all of that, and so much of it is a shot in the dark. The fact that you can take a two minute test and see if it's actually working is great."
American Idol finalist Jacob Lusk, who is currently on tour, said, "As a singer and musician, the level of free radicals roaming around in my body is very important to me, because I really have to take care of myself. If get sick, I can't sing. So this is a great way to check and see where I am and fix it."
This is Fluitec's first foray into the consumer market, building on the success of its patented RULER View™ technology, which provides the full picture of a fluid's antioxidant additive health, a critical part of an effective condition monitoring program. Fluitec currently has technology deployed in over fifty countries spanning five continents.
Consumers can purchase the TestME™ Kit at http://www.testmekit.com.
Oxidative stress, caused by free radicals, can be brought on by a number of factors including diet, lifestyle and genetic disposition, leading to premature aging as well as a host of diseases including Alzheimer's.
"The study of oxidative degradation, the relationship between free radicals to antioxidants, and the application of this knowledge for positive outcomes, is the cornerstone of our business and our passion," said Brian Thompson, Executive Vice President at Fluitec International, the parent company of Fluitec Consumer Products.
"In people, the outward effects of oxidation may manifest itself as sun spots or skin wrinkles. What is less obvious are the damaging effects of free radicals and oxidative processes occurring beneath the surface and inside our bodies. TestME™ Balance gives vision to all of that which is largely unseen," he said.
The TestME™ Kit is based on the concentration of Malondialdehyde (MDA) as a proven, valid biomarker to indicate oxidative stress. TestME™ determines the amount of MDA and other aldehydes in urine. Results are expressed in the test sample's color, the darker the color the higher the level of free radicals. After making adjustments to either diet or lifestyle, consumers can continue to monitor their progress through the test results.